breaking
exclusive
featured
popular
Arizona Basketball: Rawle Alkins scores 20 to guide Arizona past USC, 81-67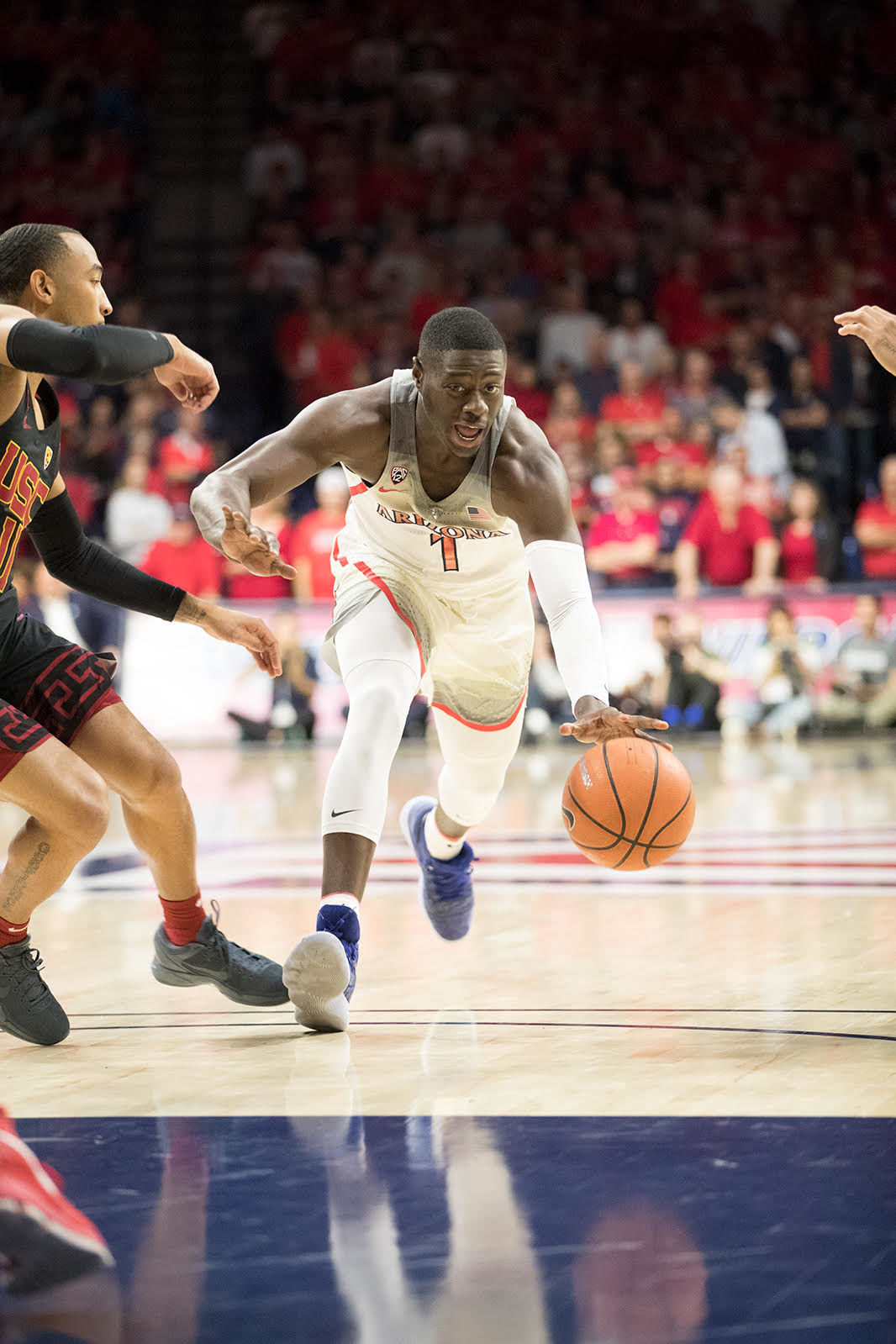 Rawle Alkins set the tone for Arizona's 14-point win on Saturday night over visiting USC two hours before tipoff.
Alkins, who scored a team-high 20 points against the Trojans, was locked in long before the game's 8:15 p.m. start time-throwing down highlight reel dunks right and left, exuding a contagious confidence to his teammates.
It was just what the doctor-or in this case, long-time Arizona coach Sean Miller, needed. His energy, in combination with a more concerted defensive mettle, propelled the Wildcats (20-6, 10-3) to a much-needed 81-67 victory, after back-to-back losses to Washington and UCLA.
Perhaps the biggest moment of Alkins' night had nothing to do with his made shots, but rather a bullet of a down-court pass to senior center Dusan Ristic for an easy layup.
That pass, which gave Arizona a 61-52 lead with just over nine minutes remaining, forced USC Coach Andy Enfield to burn a timeout-whipping the 14,644 in attendance into a frenzy.
It was a sign of Alkins' offensive fortitude, and a sign of the team's cohesiveness after a series of tough games against the Huskies and Bruins.
Alkins admitted that the last few weeks have been a struggle, coming back from a foot injury that sidelined him for the first half of the season.
"It was no secret that I've been struggling these last few weeks," Alkins said. "So, I've been putting extra time in, in the gym and in practice, and it paid off."
Ristic's basket was part of a stretch in which the Wildcats hit eight of 10 shots, propelling Arizona to a lead it would never relinquish.
The Serbian senior attributed a large part of the team's success on Saturday to the Brooklyn native, who Ristic said is the catalyst for the team's offense.
"I mean, obviously, like I've said many times this year-Rawle brings us some kind of toughness," Ristic said. "When he plays well, it affects everyone on the court, and everyone plays with a chip on their shoulder and extra energy. And tonight, was the real example of that."
Fighting back
The ninth-year coach remarked how easily UCLA defeated his squad and questioned whether they'd have the will to fight back.
"It doesn't feel that way because we're really going down a different path with our effort and our defense," Miller said on Thursday. "And you could sense that tonight. You know, that was probably the easiest victory in McKale, go back about seven, eight years, you know."
The Wildcats answered Miller's challenge, made in his postgame comments after Thursday's 82-74 loss to UCLA, in which his team was outhustled and outplayed.
Miller acknowledged his team's ability to rebound after their disappointing loss to the Bruins, commending his player's cohesiveness against a talented Trojans squad.
"It's not easy to pick yourself up off the mat. Losing a game at McKale isn't a good feeling," Miller said. "And, to go off of a loss and be ready on Saturday isn't an easy thing, and I really credit our guys and our team, the leadership of our team, and Rawle-who's fighting through that injury and hasn't played well recently. To see him play well and with that confidence, it was a great feeling."
Arizona's defense did its job against the Trojans, holding USC to 44.4% shooting-outrebounding the Trojans 40-22 and holding the visiting team without a field goal for more than five minutes in the second half.
Ristic said the team's rebounding edge shouldn't come as a surprise, with two seven-foot forwards and unmatched quickness across their lineup.
"That's something that we have to dominate every game," Ristic said. "Considering our size and our athleticism."
Miller praised his team's ability to shake off its struggles against the Bruins, beating what he called one of the best teams in the conference.
"Tonight, was one of our best performances of the season," Miller said. "The reason is we beat a very good team. USC is talented, they have all of the parts to be a Pac-12 champion."
Offensive mettle
A big reason for their victory was the team's offensive confidence, with four players scoring in double figures, shooting a sizzling 56.1 percent for the game, while hitting nine threes as well.
The foursome of Alkins, Deandre Ayton (16 points), Ristic (16 points and 11 rebounds) and Allonzo Trier (14) were locked in against the Trojans-with Keanu Pinder, Ira Lee and Emmanuel Akot adding seven points combined off the bench.
Ristic believes that the team's nightlong success, on both sides of the ball,
"It was a very good game. Everybody responded well," Ristic said. "I was here two days ago, and the atmosphere was completely different. Our effort level was bad, but I think we responded really well, and I think this is the example of where we have to go from here."
Alkins, when asked about the genesis of his recent offensive struggles, touched on the potential this year's squad has when they're playing well as a team.
"No pressure. It's great to see that my coaches and my teammates believe in me. It's always great to have everyone behind you … it's great to see that it's a family and not just a basketball team," Alkins said. "…I think, when you're playing like that and you have that chemistry-everyone's having fun-because we play basketball to have fun, not just to play basketball. And when we're having fun out there, it shows, and I think we can beat anyone in the country."