Dylan Strome, Tucson Roadrunners ready for postseason run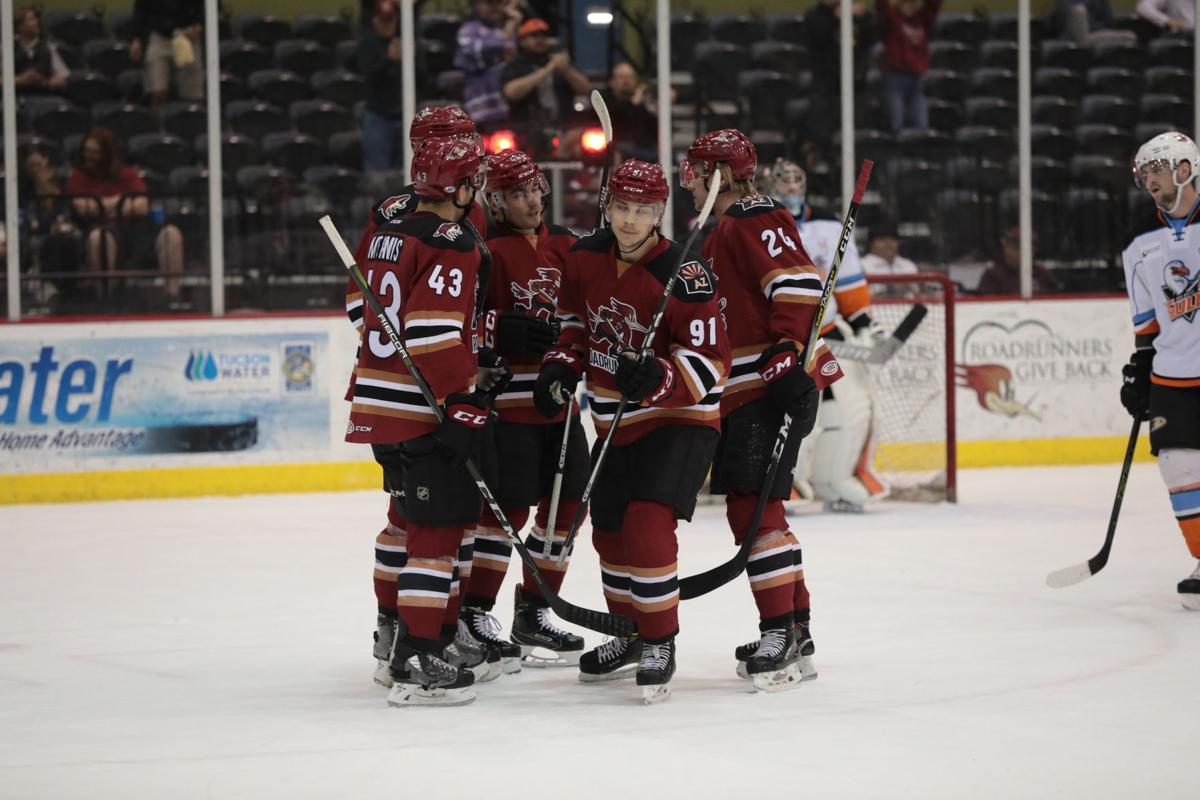 A blur of green, white, red and blue jerseys whizz around the ice sheet at Tucson Arena at dizzying speed. The colorful cadre are members of the Tucson Roadrunners, who enter this Friday's two-game home stand against the Texas Stars two points ahead of San Diego for first place in the AHL's Pacific Division.
The team, under first-year Coach Mike Van Ryn, have already exceeded their win total from last year's debut season in Tucson (29), with a sterling 30-17-4 record. They've weathered a litany of highs and lows, as any professional franchise will during the course of a season, but have remained steadfast in their ways.
Van Ryn, who played 12 years of professional hockey himself, knows how to connect with his players, and how to maximize their God-given talents. The London, Ontario native has been impressed by the cohesiveness of the team, and the commitment they bring every day to the arena.
"We've talked about how good the room is all year, it's a fact that our guys come and work every day," Van Ryn said. "I think our practice habits are very good. I think that sets us up for, at least a chance, to win."
The 38-year-old runs his players through an ever-increasing set of drills during their Wednesday morning practice, asserting himself when necessary, but otherwise watching from afar.
Van Ryn knows his players are worn out, beaten and bruised from a long year of physical play. He also knows that their commitment to working on the littlest aspects of the game is what's gotten them into playoff contention.
"If you practice well all week, and you do all your homework, you're ready for the exam," Van Ryn said. "I think that's the biggest thing with our guys, they pay attention to what we're trying to teach and for us, the prep for the game is already started, and so is the pre-scout. Hopefully it carries over, but our guys do a good job of trying to execute in practice and trying to do it at a good pace."
Buying Into the System
Van Ryn's firm but fair coaching style has won over the hearts and minds of players, including 2015 first round pick Dylan Strome.
Strome, the third overall pick in the NHL Draft, has been a tour de force in his first season in Tucson, leading the team in goals (22) and points (49). Like his coach, Strome knows that working hard in practice is key to success, and says this year's team has shown an unparalleled ability to do just that all season long.
"I think just we're working hard. I think we play for each other in the room. We have a great group of guys and a great leadership group," he said. "And we come in to work day in and day out, and I think it's showing with our results on the ice and, like you said, we've been a first-place team all year."
Perhaps the most impressive thing about the Roadrunners is their consistent success on the road this season, with the best road record in the 30-team AHL, at 17-6-2.
Strome believes the team's road mastery comes from their energy an ability to control the tempo in games this season.
"I think obviously we strive to be the best team and, no, I don't think that comes just by sitting around," Strome said. "So, we work hard obviously, and I think what we do in practice really translates to what we do in games. And if we practice good, we usually play well. And if we practice not very good, then we usually have a tough game."
Tucson veterans, like defenseman Dakota Mermis, have seen a huge shift in confidence with this year's team versus last year's, which he attributes to Van Ryn's coaching style.
"I think just the pace that we play with throughout the course of a game," Mermis said. "We're a pretty resilient group. We trained a lot harder this year, and I think that carries into the game. Mostly I think just the pace, and then the skill that we're encouraged to play with."
Playoff Chase
Both Mermis and Strome, as well as Van Ryn, are invigorated by the team's playoff chances, with 18 games left in the regular season.
For Mermis, the team's resilience all season has set them up for this moment, and he's ready to finish what they started in November.
"I think more than anything it's just a champion's mindset from the guys in here," Mermis said. "The guys are really committed to what we need to do, and know that endurance and stamina, and everything like that's going to go a long way for us down the stretch."
The top four teams in the Pacific Division qualify for the AHL's playoffs, which start in April. The top seed gets home ice advantage during the first and second rounds of the playoffs, which come against fellow Pacific Division squads.
The players and coach know they have a target on their backs each night they take the ice, but believe they have the wherewithal to withstand everyone's best shot.
"To tell you the truth, it's not thinking about number one seed-It's more or less about how we can be at our best every day, how do we prepare as well as we can?" Van Ryn said. "Obviously, we know that we need as many points as we can every night. It's just trying to set ourselves up for success. That's the biggest thing. It's always trying to give yourself a chance."
Mermis believes this year's team will be fine going forward, given how dedicated each player is to the game.
"I know was this year, we tried to really create a working atmosphere around here, and one that you come to work, but you have fun while you're doing it," Mermis said. "You look at our guys, they stay on the ice. They're all a bunch of rink rats. They want to get better, and that's what we want. We wanted to create a real learning environment, and one where we try to play everybody and try to use the depth of our team to win. I think we've done that."
Strome enjoys getting the opportunity to experience the thrill of a playoff chase, similar to what he encountered as a member of the Erie Otters of the Ontario Hockey League last spring.
He's thrilled to have the chance to make history, and to do so with a group of players that have turned this desert town into a hockey haven.
"I think we have a great team, great group of guys and I've got a lot of chemistry with my line mates," Strome said. "I've been enjoying that, I've been enjoying some success, and obviously getting the opportunity to play. So, I think a lot of it has to do with opportunity and just trying to take advantage of it."