exclusive
featured
popular
The Weekly Take: Nick Wilson and Khalil Tate lead Arizona to 49-28 win over Oregon State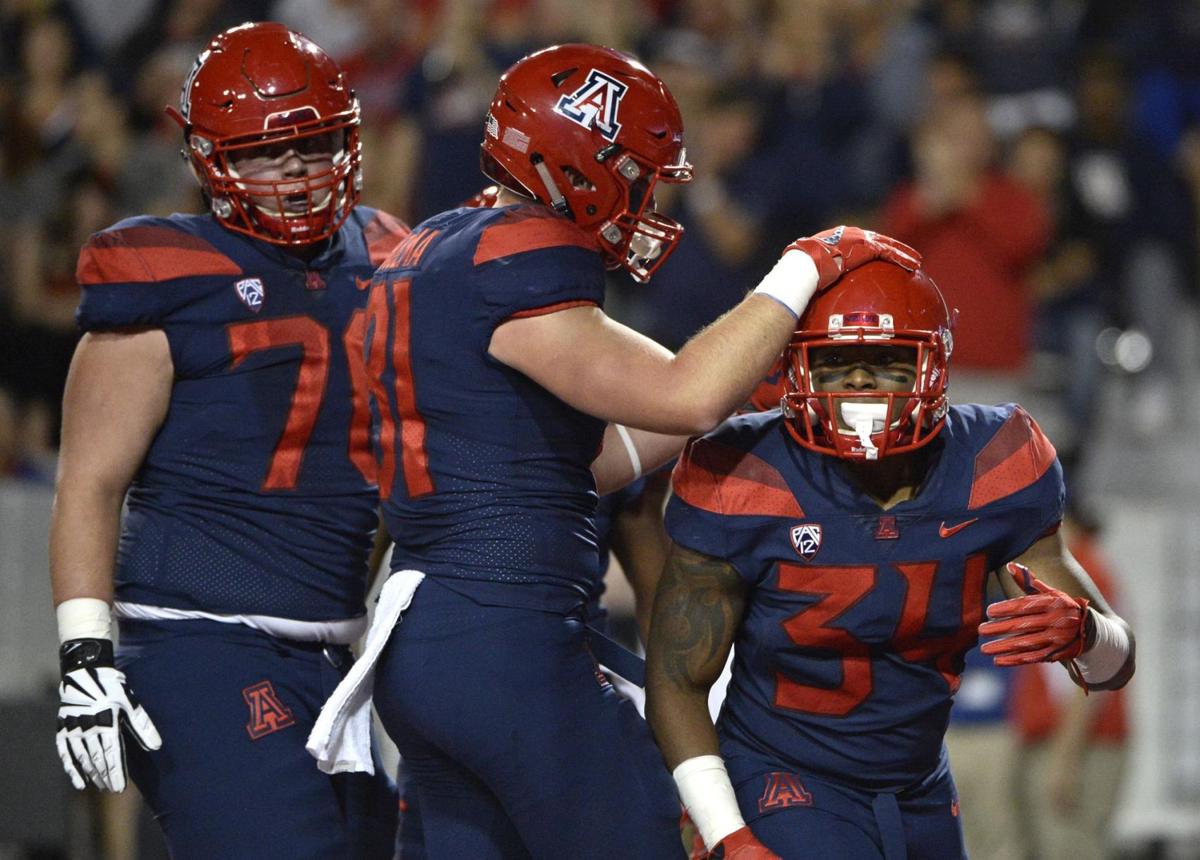 Nick Wilson dipped and dodged his way into the end zone for the opening salvo of Saturday's home finale against Oregon State—kicking off what would become a 60-minute beat down.
Wilson, in combo with the athletic freak of nature that is Khalil Tate, vanquished a hapless Oregon State squad, 49-28.
The oft-injured running back was stellar for the Wildcats in his Arizona Stadium swan song, rushing for 101 yards and a touchdown, with Arizona breaking a school record for rushing yards in a game (534).
Tate excelled on the ground, with 206 yards on 16 carries and two touchdowns, helping the Wildcats improve to 7-3 on the year.
Head coach Rich Rodriguez praised his offensive line for opening up gaps for Tate and company, which the 19-year-old did not miss.
"It starts with the big guys up front," Rodriguez said. "…We try to do some different things that can create big plays for us."
Saying Arizona sprung its fair share of big plays would be an understatement.
It was, quite frankly, a picture-perfect home finale for Wilson and company; outgaining the woebegone Beavers to the tune of 602-360—with Tate, Wilson and JJ Taylor all rushing for more than 100 yards, while redshirt senior Zach Green added two rushing touchdowns.
It's only the second time under sixth-year Coach Rich Rodriguez that four Wildcats eclipsed 100 yards in a game, with the other occurring last November, when Arizona smoked ASU, 56-35.
For the seniors
Rodriguez was all smiles afterward, gushing about the effort put in by all of his players, but pinpointing the effort by the elder Wildcats in particular.
"I'm happy and proud for our seniors. They are a great class and a great group of young men," Rodriguez said. "They have given a lot to this program and I hope this is a night they remember for the rest of their lives."
Five Wildcats scored at least one rushing touchdown, as Arizona improved its year-long record to 7-3, ahead of next week's 1,344-mile trip to Eugene to face Oregon
Freshman back J.J. Taylor, who finished with 129 rushing yards on 10 carries, heaped praise on his mentors in the backfield, Wilson and Green.
"They both lead the entire running back staff," Taylor said. "They tell us to keep our head up when things don't go our way."
It was a fitting farewell for the seniors, who picked up their 27th win as a collective, with senior lineman Jacob Alsadek exemplifying the meaning of the evening.
Alsadek sat quietly postgame when asked to sum up his final home game, before expressing the sentiment that perfectly sums up the many early morning workouts and late-night practices that are part of life for student-athletes. 
"I tried to enjoy every last second of it," Alsadek said. "I thank these guys and everyone in the room for being there for me. I have some of the best memories of my life here. If I could stay here forever, I definitely would do it. I just don't want it to end."