High School football recap: Week Two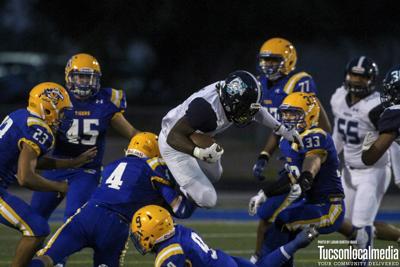 We've officially survived two weeks of the high school football season (except for CDO, whose game against Prescott was rained out). 
We were treated to a defensive tour de force by the Marana Tigers, who romped Laveen's Fairfax High School 26-0 to improve to 2-0 this year. 
The Tigers and Coach Louie Ramirez have knocked off back-to-back Phoenix schools to open the season, beating Horizon 42-36 on Aug. 17. 
Elsewhere, the Catalina Foothills Falcons did not fare as well as their Southern Arizona zoological brethren, falling to Glendale's Cactus High School, 36-12. 
The Tigers and Falcons will meet this Friday at 7 p.m. at Marana High School in the lone matchup between local teams. 
Here are the other games and scores from Week Two and this week's contests in and around Northwest Tucson. 
Friday, Aug. 24
Buena 16, Sahuaro 15
Vista Grande 19, Amphi 0
Flowing Wells 20, Walden Grove 19
CDO vs. Prescott, PPD to Sept. 21
Friday, Aug. 31
All games at 7 p.m.
Sahuaro at Sabino
Sunnyside at Rincon/University
Mountain View vs. Higley
CDO at Apache Junction
Ironwood Ridge vs. Millennium
Flowing Wells vs. Palm Desert 
Amphitheater vs. Tanque Verde
Marana vs. Catalina Foothills 
PRCA vs. Walden Grove