Arizona Basketball: Allonzo Trier and Deandre Ayton guide Arizona past Oregon, 90-83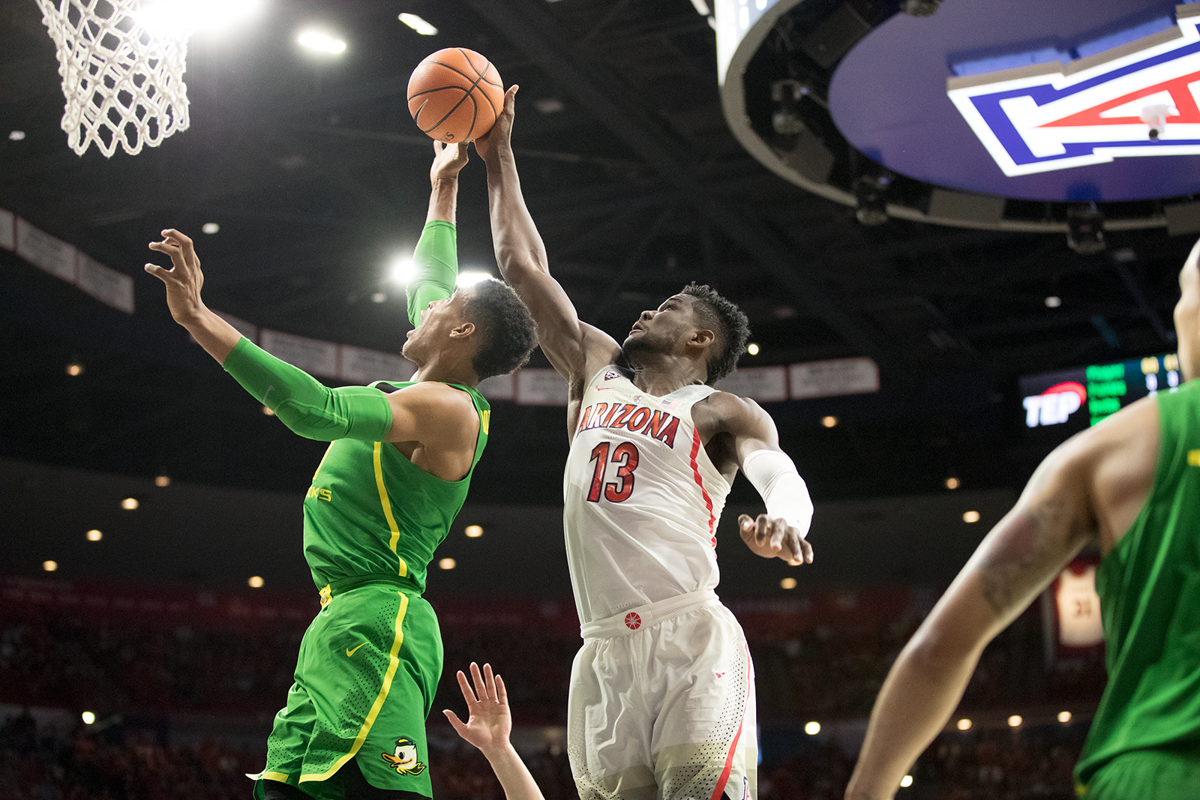 A feverish Saturday afternoon between two of the Pac-12's most successful basketball teams, full of head-scratching twists and turns, had a picturesque ending for Sean Miller.
The longtime Arizona coach, whose team had lost three-of-four to the visiting Oregon Ducks entering Saturday's matinee, was overjoyed with his team's effort.
The ear-piercing volume inside the palatial McKale Center built to a crescendo around the team's final stand—when the Wildcats sealed their 90-83 win by playing lockdown defense.
That defensive mettle, in combination with an offensive gusto that saw five Arizona players score in double-digits, with Allonzo Trier and Deandre Ayton leading the charge.
The duo, who entered Saturday's game averaging 39.6 points per game combined, were fantastic for Miller against the Ducks, scoring 49 points combined, with Trier scoring a team-high 25.
Miller was proud of the way his team battled against the Ducks, to improve their record to 14-4 on the year.
"I think this afternoon might have been our best win of the season, because this is a team that we really respect," Miller said. "We have immense respect for them. We knew it was going to be a heck of a fight, and it was."
Alkins touched on a similar note during his postgame press conference, touching on his team's unquestioned desire to thwart their newfound rivals from Eugene, referencing Oregon's 95-89 win at McKale in 2016.
"It was a huge win, especially because Oregon is rolling right now," Alkins said. "They had a big win in Phoenix when they beat ASU. We didn't want to lose because we have to protect our home court, and especially because last time they came out here, they beat us."
Fouls a'plenty
There was a cacophony of whistles throughout the day, with 51 personal fouls called, which enabled the Wildcats to spend a lot of time at the free throw line.
Safe to say, they maximized their opportunities, shooting a year-high 92.3 percent from the stripe, converting 24-of-26 opportunities, with Trier and Ayton making 21-of-22 chances between them.
Miller highlighted the team's excellence from the line as a key to overcoming their 17 turnovers against a relentless Oregon press.
"Tonight, was Keanu Pinder's night, we really needed somebody to step up," Miller said. "It's not easy for an older player to not get an opportunity on Thursday night and to come back like he did."
The amazing Aussie
The play of the game came from an unlikely Wildcat, as Perth native and seldom used forward Keanu Pinder stole the show, primarily on the defensive end on Saturday.
Pinder, who entered Saturday's contest averaging 1.6 points per game in 14 appearances, put up perhaps the play of the day, midway through the opening half.
The senior launched himself high above the rim on a fastbreak opportunity with 8:26 remaining in the first half—grabbing Parker Jackson-Cartwright's pass, before slamming it home to give Arizona a 25-16 lead.
Pinder knows that his main role on this year's team is to provide a spark on the defensive end, and to make a few offensive plays where they present themselves.
"We had a couple of good plays in a row, which the team fed off of, and we ran with it," Pinder said.
Miller praised Pinder for his gritty effort against the Ducks, with two blocks and a rebound, while making four free throws at the end of the second half.
"The biggest quality Keanu has is that he stays with it," Miller said. "…Our bench is continuing to develop, but Keanu gave us tremendous minutes on defense. He did it when we had to have him because of our foul trouble … that's not his greatest strength, but we'll take it."