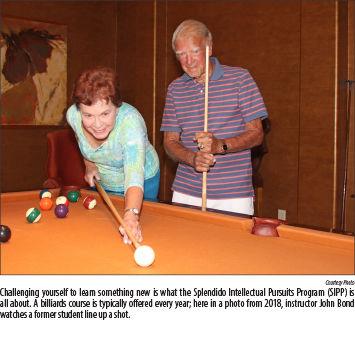 Continuing to learn may be the best thing you can do to improve your brain health—and research has shown that this is true for people of all ages. 
Residents at Splendido, an all-inclusive community in Oro Valley for those 55 and better, have ample opportunities to learn new things. In addition to many classes and lectures offered by the community, they have set up their own internal "college," in which any resident can attend a variety of high-level classes led by experts. Called SIPP, for the Splendido Intellectual Pursuits Program, the 13-year-old program is entirely planned and maintained by a committee of volunteers who live at Splendido. 
A Wide Range of Topics
Typically held every fall and spring, SIPP features a variety of multi-session courses. A committee of resident volunteers spends months putting a term together, planning out 50 to 80 hour-long sessions per term.
Presenters include outside experts, such as faculty from the University of Arizona, but the bulk of SIPP presenters are Splendido residents, who offer a range of knowledge and willingness to learn and present new subjects. 
The courses in SIPP can be intellectually challenging. For example, a semester typically includes a series of lectures on astronomy topics by faculty from the University of Arizona Steward Observatory. "As you get older, you look for meaningful challenges, says Laila Corbin, co-chair of the SIPP committee. "These courses are good brain challenges; they give you something new and different to learn."
Ongoing Interest
The SIPP registrar, Charlie Cremin, says, "I'm a retired engineer and I'm analytical; I like to look at the statistics of what we're doing." 
The most popular SIPP course every term is Smorgasbord, which offers eight different topics, each with a different presenter. "Smorgasbord has sort of taken over," says Charlie, who points out that each single session within Smorgasbord outperformed even the most popular multi-session course. Recent Smorgasbord topics have included income tax preparation, impressionist art, Manila and Singapore, and NASA's asteroid sample return mission.
The second most popular course is Getting to Know You, comprised of eight sessions featuring in-depth interviews with a Splendido staff member and a resident, moderated by Laila. "We've done these for four terms now, and they're really fun," she says. 
Spring 2020 courses included an in-depth look at Islam; an exploration of free speech; the perennially favorite billiards lessons; and a lecture series on rising sea waters. 
Courses planned for this fall include an examination the 2020 presidential election led by an authority on probability; a multi-session course on fraud; and a look at Antarctica. 
Although the spring semester was cut short this year due to the Coronavirus, residents were able to tune in to some SIPP presentations remotely, using Splendido's in-house television channel. 
A Little Learning = Big Benefits
Splendido residents who attend—and plan—SIPP courses are reaping multiple benefits. In addition to boosting their brain health, they're gaining cultural enrichment and engaging with others (also good for your brain!).
"SIPP courses give people new subjects to talk about, and get residents communicating with each other," Charlie points out. "It's all good."