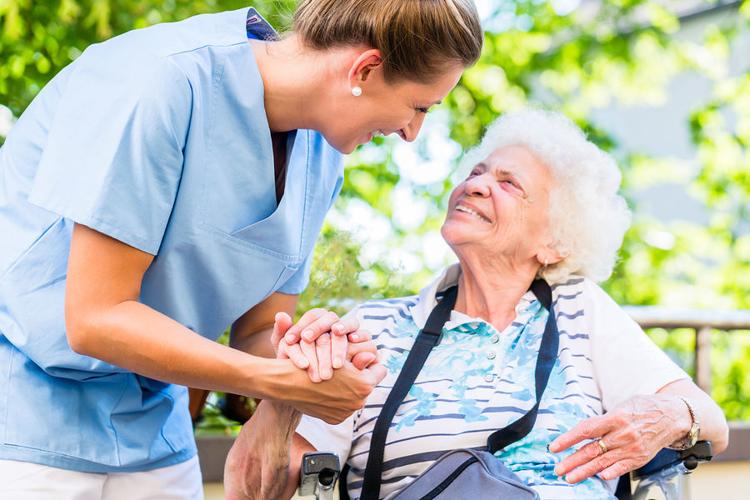 Erin Dunbar received a call one night in April that no one would want to receive. Her 72-year-old mother was on the line, telling her she was just diagnosed with COVID-19.
Dunbar's mother, Linda Orion, was living in a nursing home called Haven of Tucson, located on Swan Road adjacent to the Rillito River. She experienced two pulmonary embolisms in 2019, the second of which prompted her to stay at Haven for recovery.
Orion is one of many people living in nursing homes and assisted living facilities who tested positive for COVID-19, which has been particularly deadly in those settings. The close-contact nature of their services and the advanced age of the clients have resulted in a high percentage of transmission and unfortunate outcomes for those who are infected.
In Tucson and Phoenix, a large percentage of COVID-19 deaths have occurred in nursing homes. Through April 23, more than one-fourth of Pima County's confirmed cases of COVID-19 and more than half of all deaths from the virus occurred in nursing home and assisted care settings. Across the United States, one third of all COVID-19 deaths have been attributed to those who live or work in nursing homes.
These facilities have drawn some criticism regarding a lack of communication with clients, their family members and the public about the virus. Many people, including Dunbar, have been left in the dark about what is happening inside the homes where their loved ones are staying.
In response, the federal government and Arizona's executive office have passed new legal regulations for such facilities.
The Centers for Medicare & Medicaid Services announced in mid-April that all nursing homes and assisted living facilities will be required to report cases of COVID-19 directly to the Centers for Disease Control and Prevention within 12 hours.
"Nursing home reporting to the CDC is a critical component of the go-forward national COVID-19 surveillance system and to efforts to reopen America," CMS Administrator Seema Verma said in a press release.
In early May, CMS imposed additional regulations that require facilities to report new COVID-19 cases and deaths to residents, their representatives and family members.
Around the same time, Gov. Doug Ducey announced an executive order mandating the same thing. His order specifies that this information must be reported within 24 hours and the facilities should provide regular updates about their actions to keep residents safe.
If this requirement had been in place when her mother contracted the virus, Dunbar said it would have made a significant difference.
Orion moved into Haven of Tucson at the beginning of 2020, and three weeks into her stay she was told the staff was going to turn the second floor, where she was living, into a respiratory clinic. They needed her to move somewhere else.
Those plans were halted when the facility went into lockdown in response to COVID-19. A few weeks later, Orion and several others were moved out of the facility anyway.
"During the pandemic, during the lockdown, during quarantine of all nursing homes, they moved these people," Dunbar said. "From what I've heard, the only ones who have tested positive for COVID in her current nursing home are the ones who came from the old nursing home."
At her new facility, called Haven of Saguaro Valley, Dunbar received no communication from the staff about her mother's COVID-19 diagnosis or her treatment. Orion called herself to tell her daughter the news.
From the last update Dunbar received, there were three other people in her mother's ward who had tested positive for COVID-19. Unfortunately, she doesn't believe the facility is equipped to handle an outbreak, because they don't have the proper resources to effectively isolate residents.
Nurses told Dunbar they don't have an actual isolation ward, so they have been using plastic sheeting to separate sick residents from healthy ones. Staff are required to gown up in protective equipment to check on sick residents, and then immediately take everything off, disinfect themselves as best they can, and visit healthy residents.
During her sickness, Orion was kept voluntarily sedated for long periods of time. Dunbar spoke to her mother only three times after her initial diagnosis, and she can't visit her at the facility due to safety precautions.
"There is a feeling of powerlessness and hopelessness," Dunbar said. "All you can do is hope that the people you're talking to on the phone are telling you the truth."
Luckily, Dunbar's mother is showing signs of recovery. While they're still waiting to find out through test results, Orion's condition has been steadily improving. However, the experience has left Dunbar with little confidence in the facilities that are tasked with caring for her mother's health.
"I don't think all nursing homes are bad, I just think they are not prepared to deal with what's going on," she said.
Heather Macre, a healthcare attorney with Fennemore Craig, said the new reporting requirements imposed by both the federal government and Gov. Ducey will likely provide some solace to those who have loved ones inside nursing homes right now. But she is concerned that these new regulations will also burden facilities.
"The CMS reporting requires them to sign up with a CDC portal and then file reports and the reports are fairly detailed," Macre said. "And frankly, right now the staff are already pretty stressed out at these facilities dealing with COVID-19 and this is just another thing for them to do."
Before, facilities only had to report their COVID-19 cases and deaths to state health departments. Macre said the Arizona Department of Health Services has always had access to this information. But now, facilities must report to the state, the CDC, residents and their family members.
Beginning in June, CMS will enforce penalties on facilities that do not comply with the new regulations. These penalties start at $1,000 per day.
Regardless of the additional requirements, Macre said it is always good to have as much data as possible about the virus. But she hopes that data isn't used to shame nursing homes that do have positive cases or deaths.
"I am concerned about facilities being scared of reporting," Macre said. "I think creating the culture of openness is very important. We don't ever want COVID-19 to become the red badge of shame for people who have it or people who are dealing with it. We want to help these facilities so that they can deal with it effectively."