Just in case you missed anything, here's all the news we covered today. Click the bold links for more information.
The number of confirmed coronavirus cases in Arizona reached 16,783 as of Tuesday, May 26, according to the morning report from the Arizona Department of Health Services. Pima County had 2,075 confirmed cases.
Banner Health announced a move to begin purchasing masks for the next for its facilities from domestic manufacturer Prestige Ameritech, the healthcare system announced. After partnering with Premier Inc, Banner acquired a minority stake in Prestige, which manufactures personal protective equipment, including the N95 respirator and surgical masks. As part of the deal, Banner announced a commitment to acquiring a portion of its masks from Prestige for up to six years, including a three-year renewal option.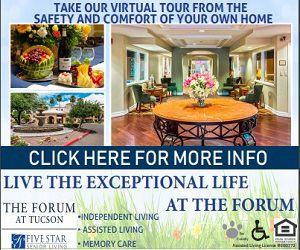 Going to summer camp is a classic childhood experience, but for many children in 2020, COVID-19 means missing out on the fun. However, Arizona Science Center is making an effort to give kids this opportunity – just in an alternate format. Beginning June 1, the center will be hosting a virtual version of their annual CAMP INNOVATION for children from second to ninth grade.
If you're one of those people who never get a flu shot, make sure you do this year. If you normally do, make sure you don't miss it. That was the key advice Pima County's Interim Health Department Director Bob England delivered to residents Tuesday morning via his daily video address regarding COVID-19. England said the last thing you want is to get sick during the winter when the coronavirus could see another peak.
In an effort to keep residents prepared for potential monsoon storms, the Town of Oro Valley Stormwater Utility is providing free sand and bags at Naranja Park. The self-service site will startup Monday, June 15. Residents will need to bad and load their own sand.
The Pima County Department Environmental Quality has issued a warning for an elevated potential for ground-level ozone air pollution in the Tucson metro area for today, May 26. Individuals who are sensitive to ozone should limit time outside doing extraneous activities particularly in the afternoon when elevated ozone levels are likely to occur. 
Last week, Governor Doug Ducey announced that $500,000 from Arizona's Coronavirus Relief Fund had been allocated to 10 organizations providing out-of-school child care in the state. The funding will support "extended hours and enrichment programs to meet the increased demand of child care for families while students distance learn and parents or guardians work." 
Just because venues are closed doesn't mean live shows aren't taking place, and The Gaslight Music Hall in Oro Valley is on a tear this summer, hosting several concerts a week in its parking lot. This week's shows, featuring Mr. Boogie Woogie Trio and The Tributaries, are already sold out, so the Gaslight is already selling tickets to the next round of concerts: The Rillito River Band and the George Howard Motown & Soul Band.