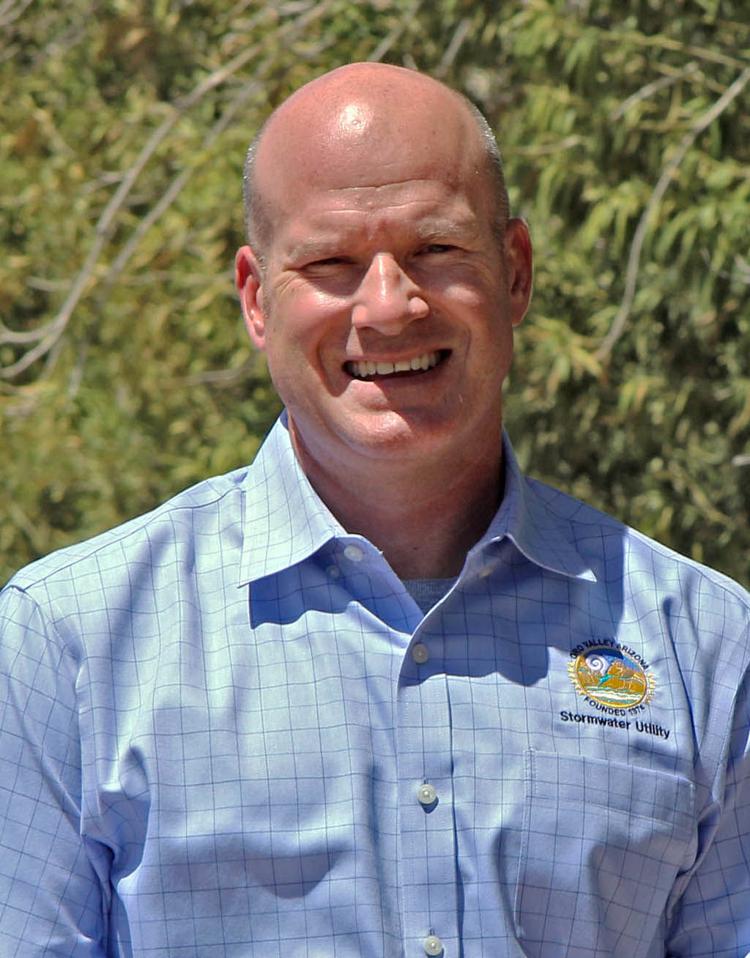 The summer rainy season will soon be here, and the Town of Oro Valley Stormwater Utility would like to remind everyone to stay monsoon aware and monsoon safe. These intense summer rain storms can be an enjoyable break from the heat, but they also bring heavy rain, powerful lightning and strong winds—potentially causing dangerous flash floods. 
Flash floods are the number one weather-related cause of death in the United States, with nearly half of those fatalities being vehicle related. If you've lived in Arizona for a while, it's likely you are familiar with the saying "turn around, don't drown," or "when in doubt, change your route or wait it out." 
Here are some helpful suggestions that will hopefully make this summer rainy season more enjoyable and safe for all.
• Never drive around a road closure barricade. Driving around barricades is illegal and dangerous. As little as 10 inches of water can carry away average-sized cars, mini-vans, SUVs and trucks.
• Do not let children play near storm drains or washes.
• Shelter your pets in your home during storm events.
• Be cautious at night as flood dangers are much more difficult to see in the dark.
• If flooding occurs, get to higher ground. Get out of areas subject to flooding. This includes dips, low spots, canyons, washes, etc.
• Roadbeds may be washed out under floodwaters. Never drive through flooded roadways.
• If your vehicle is suddenly caught in rising water, leave it immediately and seek higher ground.
Protecting your property during the summer rainy season is also a critical part of staying monsoon aware and monsoon safe. Here are some flash flood safety tips for homeowners.
• Know the floodplain status of your property. It's important for owners to know if their property is in or near a flood prone area.
• If you live in a flood prone area, have an evacuation plan.
• Store materials like sandbags, plywood, plastic sheeting and lumber for flood protection and to make quick repairs after a severe storm.
• Store materials above flood levels.
• Secure personal items and belongings to prevent them from floating away.
• Learn where to find high ground that is safe from flooding. In a flash flood seek high ground quickly.
• Contact an insurance agent to discuss flood insurance coverage. Flood losses are not covered under normal homeowners' insurance policies. Flood insurance is available through the National Flood Insurance Program. Get coverage early as there is a waiting period before it takes effect.
Preventing pollution and preserving stormwater quality during the summer rainy season is another facet of the Town of Oro Valley Stormwater Utility. The town is mandated by the U.S. Environmental Protection Agency and the State of Arizona Department of Environmental Quality to protect the environment through the prevention of pollutants entering stormwater runoff.
The next time it rains, walk around your property right after the storm and watch how the water flows off of your property and onto the streets or into a wash. This is runoff. If it contains pollutants, those pollutants can be discharged into the stormwater system during and after storm events and degrade stormwater quality, which often is simply released into the environment. Here are a few tips to help in the prevention of pollution during this upcoming monsoon season:
• When draining your pool or spa water into an adjoining paved street, make sure the water is clear (not green or brown), pH neutral (6.0 to 8.0) and has chlorine less than 1 part per million. You may also drain without restriction to the sanitary sewer or onto your own property.
• Pick up your pet waste and dispose of it in the garbage.
• Keep the lid on your trash container closed when not in use to keep rainwater out.
• Limit the use of pesticides and herbicides. When using these chemicals always follow the manufacturer's instructions.
• Check your vehicle regularly for leaks. Repair any leaks as soon as possible.
The Town of Oro Valley Stormwater Utility hopes this year's monsoon season is enjoyable for all and encourages you to be monsoon aware and monsoon safe. For more information, including our Monsoon Preparedness Guide, visit the Town's website at orovalleyaz.gov and type "monsoon" in the search bar.
John Spiker is the Oro Valley Stormwater Utility Division Manager.