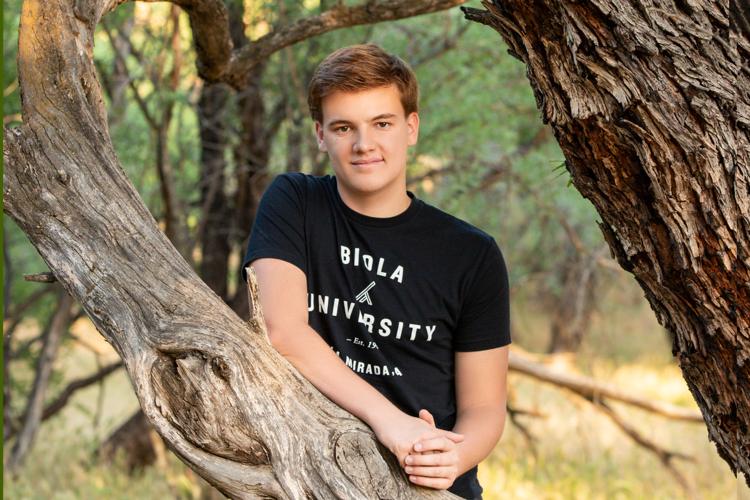 Whether it's on the tennis court or in the classroom, Pusch Ridge Christian Academy senior Kyle Bushelman, 17, sees his life through the lens of the Parable of the Talents.
In that story, a master leaves his servants with his holdings while he's gone, and expects the servants to use that money to further his estate and bring him increased value. Traditionally, the tale is seen as an exhortation to Christians to use their talents in service to God.
Kyle has internalized that parable over the years, and uses its teachings as a guiding light.
"When you actually put work into something and actually care about it, you can actually succeed in it if you try," he said. "I think about what academic gifts I've been given and use those to further God's glory."
That doctrine has led Kyle to the top of his class this year, earning him the title of 2020 valedictorian.
Looking back at his four years at Pusch Ridge, Kyle recalls with a kind memory his years playing tennis, swimming, taking AP classes and making long lasting connections with his fellow Lions.
Because he attends a school with a graduating class counted by dozens instead of hundreds, Kyle said he's had the opportunity to get to know everyone at Pusch Ridge—and that his teachers were the best part of his high school journey.
"The teachers get to know you and they really care about you," he said. "You're not just a number or a grade. You're an actual student with a face and a life, and I've been able to connect with my teachers over the past few years. They've mentored me and helped me become the person I am today."
 Pusch Ridge principal Jason Clapero said that while the school has seen plenty of intelligent and gifted students come through its halls, few have Kyle's combination of brains, humility and motivation.
"It means so much to us when the students who excel at your school, whether it be in athletics or arts or academic...a degree of influence comes from being excellent at whatever you do, no matter what your character is," Clapero said. "So when that excellence is matched with a character that is humble, that is kind, that is selfless in many ways and puts others before himself as a leader you delight in that. You're so thankful for that."
If you were to ask Kyle's mother, Beverly, what kind of person her son is, she would say not only is he highly intelligent, but that he's plenty of fun to be around, too.
"He likes to play games, he likes to play card games, board games and he also loves sports," Beverly said. "He's an avid NFL football junkie. He's been playing sports and has been a part of sports teams since he was old enough to swing a bat...Over the course of his schooling, he's played on T Ball teams, baseball teams, soccer teams, swim team, tennis team. He's a very well rounded individual."
His mother may highlight his athletic tendencies, but it's Kyle's academic prowess that earned him the honor of valedictorian this year. Kyle always knew he was academically gifted, and so school was never a challenge, but it was not until his sophomore year that he began to fully dedicate himself to his learning.
Once he set his mind to it, however, earning valedictorian seemed to be just another part of God's plan.
Kyle said one of his favorite parts of his high school journey was playing tennis all four years at Pusch Ridge. He began playing when he was 12 years old, and sees the sport as more of a hobby and an opportunity to hangout with his dad and friends. He made varsity this year, as a doubles alternate, though his final foray was cut short due to COVID-19.
"It's a good way to connect with people because it's a competitive sport but at the same time it can also be played in a friendly way," Kyle said. "When you're playing a doubles match with a friend or against a friend, you connect with them...I've gone on to play tennis with a few of my buddies over the years, and that's really great."
Aside from the solid workout, Kyle said playing tennis has also allowed him to better take control of his emotions and not let a bad moment get the best of him.
Kyle also played soccer for two years and swam his freshman year, but decided to give those sports up to concentrate on tennis.
Outside of athletics, Kyle said he likes to spend his time with his youth group. He attends Catalina Foothills Church and said his faith is probably the most important thing in his life.
"We dig into God's word, and I really enjoy that," Kyle said. "Getting to know other guys and being able to relate to them about my struggles and hear about what they're going through, that's something I really enjoy."
Looking forward, Kyle said he's excited to attend Biola University—a private Christian college in La Mirada, California. He intends to double major in mathematics with a focus on statistics and data science, as well as bible theology and ministry with a focus on biblical languages. If he could pick a dream job, Kyle said he would work as a sports statistician for the Cincinnati Bengals.
Considering all the Advanced Placements and honors courses he took while at Pusch Ridge, Kyle is not too concerned about the transition into college. If anything, he's disappointed he will make the trip to California without a proper goodbye from all his classmates.
Like public schools across the state, Pusch Ridge shut its doors early this year to help slow the spread of COVID-19. Kyle understands the severity of the situation and the school's actions, and said he's consciously worked to find the positives in life while finishing senior year from home.
"Losing senior traditions and time with my friends, it hurts a lot but, I understand with a broader perspective that as far was what I'm losing, it's insignificant compared to what other people are losing around the country and around the globe," he said."I understand that it hurts, but other people are also hurting, so I can't be trapped by what I'm feeling...I can't be feeling sorry for myself."