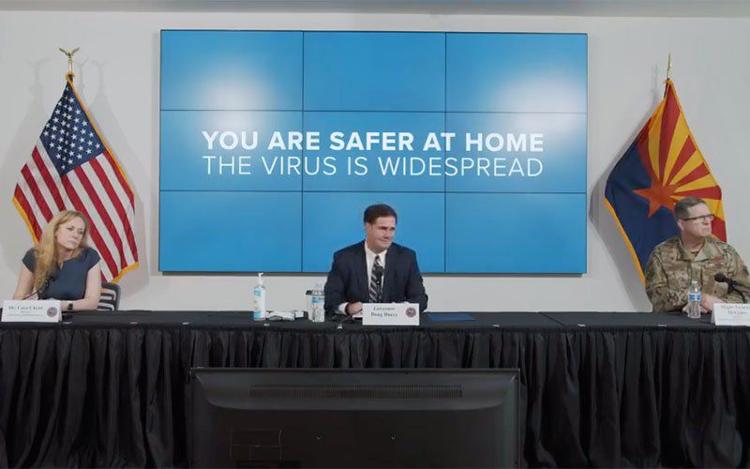 The number of confirmed novel coronavirus cases in Arizona continued to skyrocket, topping 101,000 as of Monday, July 6, according to the Arizona Department of Health Services. Pima County had seen 9,873 of the state's 101,441 confirmed cases—more than five times the state's total number of cases on June 1. A total of 1,810 Arizonans had died after contracting COVID-19, according to the July 6 report. Arizona hospitals continued to see a rise in the number of people hospitalized with COVID symptoms, as well as more people visiting emergency rooms. ADHS reported that as of July 5, a record number of 3,212 Arizonans were hospitalized and 1,405 people were in ICU units. The report shows 1,306 people arrived at emergency rooms with COVID-like symptoms on July 5.
• Nationwide, more than 2.9 million people had tested positive for the novel coronavirus, which had killed more than 130,000 people in the United States as of Monday, June 29, according to tracking by Johns Hopkins University.
• Gov. Doug Ducey last week ordered the closing of some bars and all gyms, movie theaters, water parks, and river tubing activities for at least one month. Previously, Ducey had said new closures were not under discussion by his administration despite the rising number of cases.
Ducey warned that Arizonans will see more cases of COVID-19 before the numbers begin to decrease. "Our expectation is, our numbers will be worse," said Ducey, who repeated his call for Arizonans to mask up when in public, stay home as much as possible, wash their hands and keep a physical distance from others.
• The Department of Health has activated its "crisis standards of care" and asked hospitals to cancel non-emergency surgeries as more COVID patients fill hospitals, ICU beds, and emergency rooms. In a visit to Arizona this week, Vice President Mike Pence said the federal government would be sending up to 500 healthcare workers to Arizona to support Arizona's overstretched nurses and doctors. Pence's trip was delayed by a day after several members of his Secret Service detail tested positive for COVID-19. Some of them were quarantined in a Phoenix hotel with medical supervision.
• With the spread of COVID increasingly out of control in Arizona, Tucson Unified School District and Sunnyside School District announced that they will only offer "distance learning" or online instruction when school starts next month. Unlike in spring, when schools moved online following spring break, districts are planning stricter instructional time designed to mirror traditional in-person classes.
Tucson Unified School District announced last week that it would launch online classes for all students starting Aug. 10, with in-person classroom instruction delayed until "when it is deemed safe," according to a letter to parents from TUSD Superintendent Gabrielle Trujillo.
Although Gov. Doug Ducey announced earlier this week that the start of the school year would be moved from Aug. 3 to Aug. 17, Trujillo said that date "may be aspirational."
"Due to this uncertainty, and the importance of creating a stable educational environment for our families and staff, Tucson Unified has determined we will begin all students via Remote Learning on Monday, August 10, 2020 and then transition those interested in an on-campus learning experience when it is deemed safe," Trujillo wrote.
Likewise, Sunnyside School District Superintendent Steve Holmes told parents that the district would start online classes on Aug. 5.
"While starting school completely online is not ideal, I am confident that we are prepared for a remote learning environment given our track record of using technology as an essential instructional tool for the past 10 years," Holmes said. "We are committed to offering your child a quality uninterrupted learning experience. Our teachers and curriculum staff have been working all summer to ensure that we can remotely deliver the same rigorous curriculum that would have been offered in person."
• The Arizona Interscholastic Association announced all school-related athletics and activities will be delayed until at least Aug. 17, in response to Gov. Doug Ducey's executive order pushing back the start date of all state schools. As a result, high school fall sports practice will be delayed until Arizona schools reopen mid-August and the fall competition season will also be postponed. AIA officials have not yet announced when the competition season will resume. 
"We couldn't be more disappointed about the information that just came out regarding our schools," Executive Director David Hines said. "However, we understand that the most pressing concern is to ensure our student-athletes can return to school in the safest way possible." 
The AIA is continuing to assess how to reschedule the season statewide to help the AIA Executive Board have a better idea of when fall competition will begin. If revised timelines for the fall interfere with the winter sports season, those schedules will also be addressed at a later date, according to AIA officials. 
• Four Democratic members of Congress from Arizona—Raul Grijalva, Ann Kirkpatrick, Ruben Gallego, and Greg Stanton—were among 80 members of Congress who called on Homeland Security Secretary Chad Wolf and Acting Immigration and Customs Enforcement (ICE) Director Matthew T. Albence to "safely and swiftly" release children and adults held in immigration detention centers due to the threat of the COVID-19 pandemic. The group sent a letter following an order from a federal judge on June 26 saying that all children who have been detained for more than 20 days at three facilities should be released.
"Since the COVID-19 pandemic began, Members of Congress, advocates, attorneys, and doctors have continuously urged ICE to use its authority to release detained families," a letter to the Trump administration officials reads. "Instead of releasing families, ICE has used the pandemic to implement cruel and inhumane policies toward immigrants. For example, in May, following another order from Judge Gee that required ICE conduct individualized release assessments for children in detention, the agency asked detained parents to sign documents without counsel present, leading those parents to believe they were forced to choose between indefinite detention with their children, and the release of their children alone, without them."
• The University of Arizona Athletics Department announced that it would pause the process of bringing student-athletes back to campus because of the surge of cases in Arizona and the increasing stress on the healthcare system. "Out of an abundance of caution, we have made this decision with campus and community partners to pause our re-entry process," said Vice President and Director of Athletics Dave Heeke. "The health, safety, and wellbeing of all members of our community is our number one priority. We will continue to work in conjunction with campus partners and our local government agencies to support and evaluate a safe and healthy return to campus." The UA Athletics Department had started bringing student-athletes back to campus on June 15. So far, only one athlete among the 83 on campus has tested positive for COVID-19. 
—Reporting from Jim Nintzel, Kathleen B. Kunz, Austin Counts, Jeff Gardner and Tara Foulkrod.