Two of the most consistent high school football programs in Southern Arizona faced off in Oro Valley last Friday night, leaving hometown fans disappointed after 48 minutes consisting mostly of traded punts and defensive stops—a slugfest that ended with Ironwood Ridge falling to Cienega, 10-0.
The game's lone touchdown came on a nine-yard rushing score by Bobcats running back Tristan Pralle who crossed the goal line with 4:49 left in the opening quarter. The visitors from Vail tacked on a 22-yard field goal in the game's second stanza, putting the contest out of reach for the Nighthawks. 
The loss evened out Ironwood Ridge coach James Hardy Jr's first regular season with the Nighthawks, who finished with a 5-5 regular season record. 
Hardy praised the way his players handled a tough opponent, noting that his players held one of the region's most prolific offenses to 10 points. 
"I asked them to play four quarters of football, and they did," Hardy said. "I can't be any prouder of those guys for doing that. We played an exceptional game on defense, and they allowed us to stay in this game." 
Despite the scoreboard at the end of the night, senior running back Brandon Barrios, who had 76 yards on 20 carries, was happy with the way the team played, even when little clicked offensively. 
"We played a capable game tonight," Barrios said. "We were playing hard out there, but it was just one of those games where little was going right for us."
After the game, Hardy called the team's nightlong effort something to be proud of.
"I asked them to come out at halftime and continue to play hard, and they battled until basically the clock hit zero on the fourth quarter," Hardy said. "I'm proud of the effort, they responded to the challenge and they came out."
Hardy's challenge was well-received by players like senior Cameron Drescher, who had 28 offensive yards in addition to several key plays on defense.
According to Drescher, the Nighthawks' final game was more about their relentless effort to keep the Bobcats from reaching the end zone in the latter half.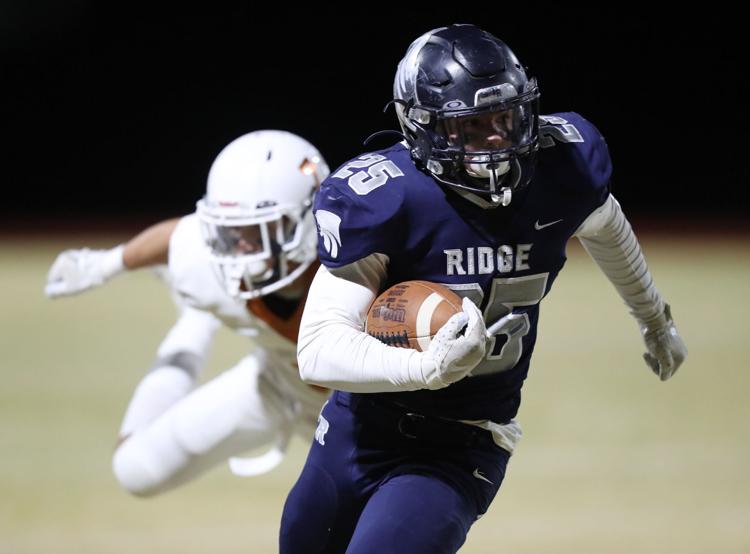 "I think the key tonight, defensively, was really just sticking together," he said. "We gave up one long pass all game, but we didn't get down on each other. We didn't start yelling and we kind of picked each other up and we made plays."
Playoff picture
The Nighthawks' season will roll into this month's playoffs after they earned the 13th seed in the 16-team 5A playoffs. Ironwood Ridge will face off against fourth seed Casteel in Queen Creek this Friday night, facing a 7-3 Colts team at 7 p.m.
Elsewhere in northwest Tucson, fellow 5A stalwart Mountain View earned the 16th and final spot in the playoffs, facing top-seed Williams Field of Gilbert this Friday night. 
In 4A, the Canyon del Oro Dorados earned the third seed after being dealt an upset on the road against Casa Grande, 19-17. The Dorados will host 14th seeded Marcos de Niza this Friday night at 7 p.m., as the third and final team from the region to qualify for the postseason.
Barrios described qualifying for the 16-team 5A postseason as a dream come true, saying the team is thrilled to have an opportunity to extend their season and play together for at least one more week. 
"It's a great feeling, because you really can't ask for anything more than another week of football, because you never get this chance back," Barrios said. "You'll always remember it, because playoffs are what everybody dreams of."