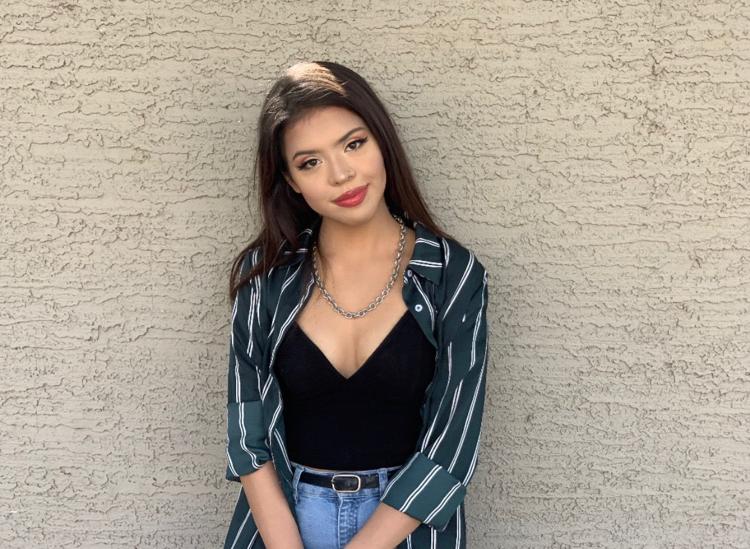 When Leilani Serbousek was told she would be this year's valedictorian at Mountain View High School, it was a tremendous weight lifted from her shoulders. 
Graduating first in her class was a goal Leilani, 17, set for herself after receiving her first transcript freshman year and saw she was ranked No. 2 in her class. Some of her friends doubted she could earn the top spot, and she used that negativity as motivation.
"They teased me about it thinking I couldn't do it," Leilani said. "That just ended up fueling me more because I like proving people wrong. I told myself I would get more serious about this."
After enrolling in Advanced Placement classes the following year Leilani moved to the top—and so began her mission of keeping herself there.
Aside from her strong grades, Leiliani was also involved in a variety of extracurricular and volunteer activities as a Mountain Lion.
Leilani got her start freshman year with Academic Decathlon, which she discovered after seeing it in the high school coursebook while transferring from Marana Middle School. The class seemed challenging, and she saw an opportunity to test her mental mettle.
Despite ending up with a D in the class after her first week (which caused her friends and family to advise her to drop the class in order to preserve her GPA) Leilani believed in herself, and ended the year with an A.
"You've got to put yourself out there and do things you think you might not be able to do and surprise yourself," she said.
After the rocky start Leilani was set for smooth sailing. She was a member of the AcDec team for all four years of high school. She spent two years as vice president and finished out her journey as president. She even won third place in the honors category in the interview and speech section of the 2018 regional competition.
Leilani said she was extremely shy her freshman year, and credits AcDec for breaking her out of her shell and instilling in her a love for public speaking and helped her make lifelong friends to whom she could turn for honesty and advice.
"That was the one class or club that impacted me the most," she said. "It taught me a lot of life skills like public speaking and interviewing...It connected me with a lot of amazing people."
Aside from AcDec, Leilani also participated in Model United Nations after being introduced to the program by 2019 valedictorian Shania Wachenschwanz. As part of the program, students are each assigned a country and discuss historical, modern and hypothetical geopolitical situations.
One of Leilani's Model UN highlights was participating in a mock Bretton Woods Conference during a competition because she walked the steps of founding a country and writing resolutions.
Her interest in politics doesn't end with hypothetical situations and reenactments, however. Leilani interned with the Pima County Democratic Party during the 2018 midterm election, and helped residents register to vote or sign up for early ballots.
Leilani also spent two years as a member of Tucson Teen Congress, a function of the Metropolitan Education Commission. In addition to working with other high school students to better understand their interests and concerns, the teen group went to the state capital in order to speak with legislators and share ideas.
While she was excited to work with elected officials, Leilani does not shy away from sharing her disappointment with the experience.
"One of the biggest things I learned is that some people just aren't open, especially legislators, to new ideas and aren't open to anything that isn't completely set with how they want it to be," she said. "If they aren't getting their way, they aren't willing to compromise, and that really showed me the reality of politics and how much harder I'm going to have to work in my future political career."
When she wasn't working with politicians or registering voters, Leilani was educating her fellow Mountain Lions on sustainability through the Green Initiative—which she founded.
Leilani was introduced to the concept of climate change in middle school, at which time she decided not to believe in the idea because "it was scary." In high school she began to do her own research, and changed her opinion.
"You can't deny the fact that pollution exists, at least plastic pollution," Leilani said. "If you just take a second to look along the highway as you're driving, you're going to see trash. So our whole focus was just educating people on the different ways they can help the environment in a local setting. One person can make a difference."
Outside of her political activity, Leilani also found time to volunteer at the Pima Animal Care Center, where she said she helps give animals a chance to find their forever homes.
Despite her numerous efforts Leilani was still connected to Mountain View, a school she said provided the ideal environment for her to succeed as a student.
"It wasn't perfect, but at the same time I wouldn't have any complaints...I really liked it," she said. "There's the opportunity to challenge yourself and get a more difficult course load, but there's also regular classes and extracurriculars that are more fun."
While she excelled at school, Leilani was quick to admit she struggled during the COVID-19 pandemic to stay on top of her assignments. She found solace in video chats with her friends and stayed motivated with their help.
When school closures were first announced, Leilani said she was upset about missing senior prom, graduation and other traditions, though she has since found other things to focus on—including writing a speech for the school's virtual graduation.
Leilani said her speech includes the COVID-19 pandemic and not seeing her friends and classmates, though she also wanted to send her fellow graduates off with a positive message.
"I am so proud of everyone no matter where they ranked, because school doesn't define someone. Our school system today doesn't actually highlight everyone's personal, unique abilities and I'm thankful that somehow I fit the school mold, but I know that not everyone does and that's not fair...You don't have to excel in high school to be great."
Whether she's walking dogs, studying for Academic Decathlon or signing up voters, Leilani's father, Lamont, said he is extremely happy for and proud of his daughter for her hard work and sacrifice over the years.
"She's a very compassionate person," he said. "Very caring, thinks about others. She's also very driven and has a strong work ethic...She's a really wonderful young woman and I'm very proud of her."
Leilani will attend Northern Arizona University in the fall, and hopes to double major in civil and environmental engineering.