Courtney Weber considers her grandmother a legendary teacher, and remembers spending summers as a child listening to stories about the profession.
Those summers left an impact. Weber has taught for more than a decade, and currently teaches fourth grade at Gladden Farms Elementary, where she's worked since the school opened four years ago.
She speaks highly of the profession, saying she's a teacher because the passion comes straight from the heart. And while she may be humble, Weber's work with her students was recognized last Thursday when she was named a legendary teacher.
The awards, hosted by local organization Legendary Teacher in partnership with the Pima County School Superintendent, are hosted the fourth Thursday of September every year since 2014. Educators are nominated by those they've impacted: parents, students and colleagues, and are awarded $250 honorariums.
In the case of Weber, she received funds from Pima Federal Credit Union. 
"I've not been recognized for anything before," Weber said. "But as a teacher, that's not our goal... But I will remember it always and take it with me, and continue to be that legendary teacher for all of my students."
Weber was nominated by the mother of one of her recent students. In the nomination letter, the mother said her son entered fourth grade "disliking school and with very little self-esteem about his abilities."
In the year the student was in Weber's class, the mother wrote that she saw "a slow and steady change for the better."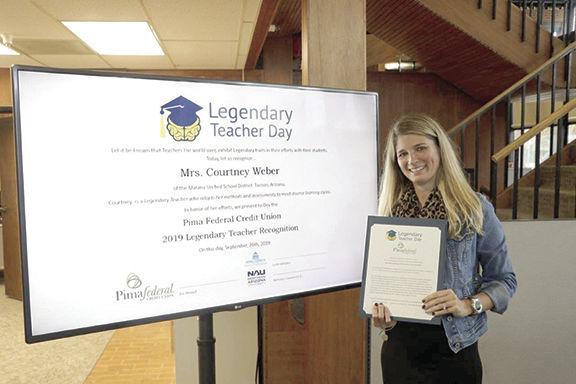 Weber said as a teacher, she believes she "has to be there" for her students, especially when they've hit a rough patch.
"He's so young and has so much schooling ahead of him," she said, of the student. "He's a great kid, and I just wanted to set him back on the path that school is wonderful, school is great, as long as you have the right people there for you."
Weber wasn't the only teacher recognized for their efforts to improve the lives of their students. Amphi High School's Dev Balachandran, Homer Davis Elementary's Jule Abeytia and Mary Giltner from Sunnyside High School were also recognized.
Entering its sixth year, Legendary Teacher was founded by retired educator Nicholas Clement, who worked for nearly a decade as superintendent of the Flowing Wells Unified School District.
After retiring, Clement said he woke up one day and had an existential thought: How did he get to that point in his life, and what would he do next?
Clement became an educator because of a couple great teachers, he realized, and came to the conclusion that he needed to contact them and let them know, tell them about his career and the difference they made.
The experience was so satisfying, it drove Clement to create Legendary Teacher, and by extension, Legendary Teacher Day.
"We're finding that people have stayed in contact with their legendary teacher," Clement said. "It's a simple, yet powerful emotional connection that we've given permission for folks to follow through on."
It wasn't long before the drive to thank teachers left an impact on Pima County School Superintendent Dustin Williams, who spoke at a Legendary Teacher event several years ago.
Williams was immediately interested in involving his office with the ceremony, and has since hosted the awards.
"This is how we elevate the profession, by having people acknowledge how important their special or legendary teacher was or is, and how they're still influential," Williams said.
Weber said she was honored to know how influential her own work has been on the lives of her students, though she doesn't consider herself at the same level as her grandmother. 
But she's getting there.
"Even as a young kid I can remember my grandma saying it was important to be a good role model for people," she said. "Set expectations and people rise to them."