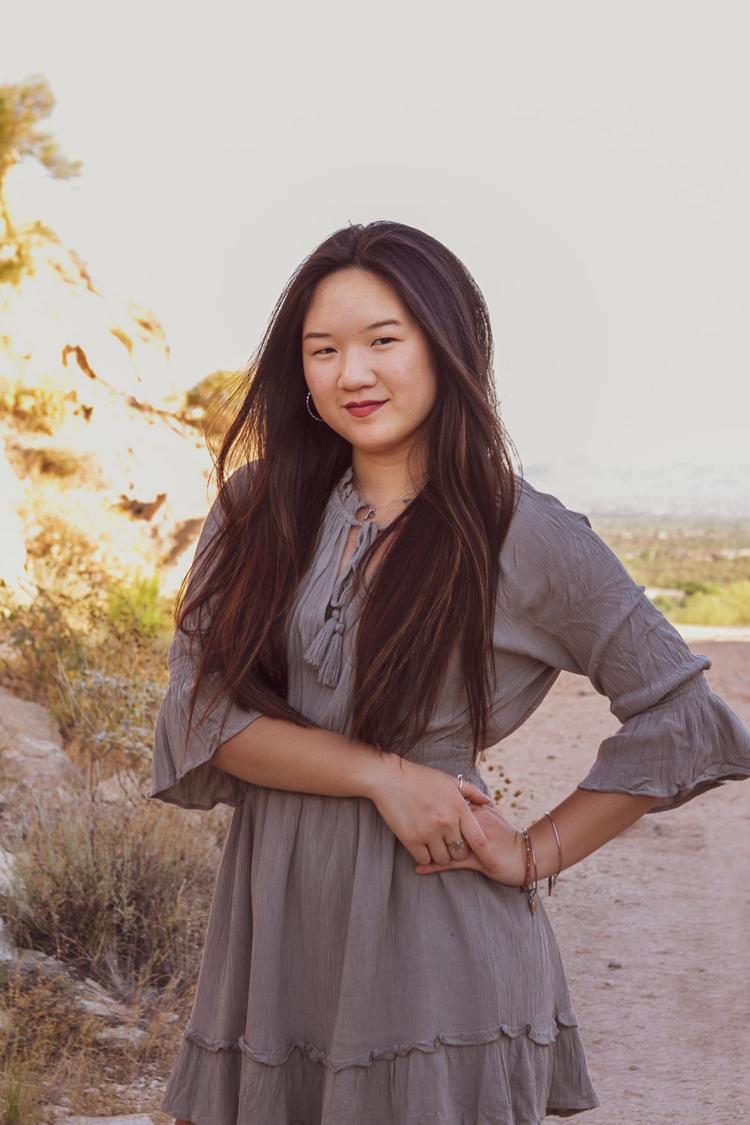 While she may be Canyon del Oro High School's valedictorian, Kaitlyn Hsu is quick to highlight the hard work, compassion and empathy of her fellow Dorados. In her eyes, this year's graduating class is passionate and willing to go to great lengths to achieve their goals and do what they feel is right.
"Yes, I am No. 1 in my class, but I've come to know this year that there are so many people that I see that are working so hard and studying and trying their best," she said. "It's hard for me to just say I'm No. 1 when I see so many other people that work hard, too...I think for me to be able to have this title is a representation for all the other hard work that I see around me. I'm so excited about it, and really honored and humbled."
Despite her humility, it's Hsu's own hard work that put her at the top of her class. She said it was never a goal she had in mind: She always wanted to have high grades and do her best in school, and that just meant getting all As.
Over the course of her four years at CDO, Hsu participated in a variety of extracurricular activities and programs, including the Be Kind and chemistry clubs, golf and co-founding the school's Asian American Cultural Society. The society met twice a month and hosted presentations about different cultures, played games tied to various traditions and sampled traditional foods from different countries.
Hsu said she's driven to be so involved around the high school because of a yearning for a strong sense of community. One of her biggest satisfactions in life is bringing dissimilar groups of people together, and sees that happening in her different academic and social pursuits.
"People like to stick to what they like and keep to themselves and their own groups, and I think that a lot of people don't realize that even though somebody isn't exactly like you, there's a lot you can either learn from them or just bond with them over," she said. "I have so many different friends that are all from these different groups and these different backgrounds but I find different ways to bond with them. I want to share that and help other people realize that fact."
While that may seem a heavy workload for any student, Hsu was also an International Baccalaureate scholar for two years, and a member of the school's Odyssey of the Mind team for three years. 
International Baccalaureate is an education program focusing on independent critical thinking, and "how to inquire with care and logic." The IB program can be found in 150 countries, and in more than 5,000 schools across the world.
According to Hsu, the program is  globally minded and focuses on incorporating all traditional classes together into one cohesive learning experience. She said IB taught her to be a more critical thinker and to better reflect on her personal experiences. 
"You may be learning about the Vietnam War in history, but you may be also reading a literature piece from someone fighting during the war," Hsu said. "I've always noticed that collective, inclusive learning helps some of those concepts stick into my head a little better. It takes an approach that's not always about memorizing and it's more about understanding multiple perspectives of a certain event or any certain topic."
Hsu said the program forms a unique and unbreakable bond among its members—something closely resembling a family. She said some of her fondest high school memories come from working with her IB cohort, stressing over exams, staying up late to work on important papers or projects and persevering through academic adversity.
As a member of CDO's Odyssey of the Mind team, Hsu flexed her creativity and critical thinking skills even more. Students work through open-ended problems on a variety of subjects, and often have to think "outside of the box" to accomplish their goals.
Hsu was introduced to the program by a friend, and competed at the world competition all three years. She won the OMER Award her freshman year, which is bestowed upon an individual who serves as "exemplary examples or role models through their actions or words" or a student who exhibits "exhibit exceptional skill and talents." Hsu was bestowed the award for her artistic ability.
Art has been a passion of Hsu's since she could hold a pencil. She started off drawing and painting as a hobby, though she recently began experimenting with digital mediums and finding new ways to make her art more accessible (and profitable). Since moving to a computer, Hsu designed shirts and pins for the Odyssey team, and designs cards.
She now sees her passion as a possible tool in her future professional career.
Hsu's high school journey included more than academic struggle, however. Her mother was diagnosed with Non-Hodgkin's lymphoma at the end of freshman year, leaving Hsu to assist in caring for her younger sisters while her mother stayed in the Mayo Clinic in Phoenix.
The experience taught her what it means to be a good student, daughter and provider.
"When I look back on it, and my mom is doing much better now, I think that experience taught me a whole lot more than what it means to be a good student, but how to balance life and having things that are obviously important for you and your education but also remembering to dedicate time to family and the people that are most important and close to you."
Hsu's mother, Kay Blackburn, said her daughter is the kind of person that dedicates 110 percent of herself to any and everything she does.
"As her mom, I am biased, but we think the world of her," Blackburn said. "She's accomplished so many things and maintained a humility that's very impressive. She's overcome a lot of adversity in her high school years, so we know that regardless of her situation or what she's faced with, she's going to be successful. We're extremely proud of her for the person that she is in addition to the accomplishments she's achieved at such a young age."
Even though the end of her high school success story may be darkened by the COVID-19 pandemic, Hsu is still excited to participate in the school's modified graduation activities. Small groups of students are graduating together in front of limited attendees. The procession will be filmed and aired on television.
Although she won't address her classmates like her valedictorian predecessors, Hsu still wants to deliver a supportive message to the rest of the class of 2020.
"In life, we all face adversity and adversity means different things for different people, but ultimately, struggling through all that adversity and all the challenges is what makes us more resilient," she said. "...When there's no choice but success, you have no choice but to succeed, and I think that just encompasses what I want to convey to my class. In life there will be times that things are trying to get you down, and we're a generation that is totally equipped to fight that and really seek to overcome."
With a diploma in hand, Hsu heads off to the University of Arizona in the fall where she will enroll in the Eller College of Management's undergraduate program. She plans on studying business, with an eye on marketing and a master's degree.