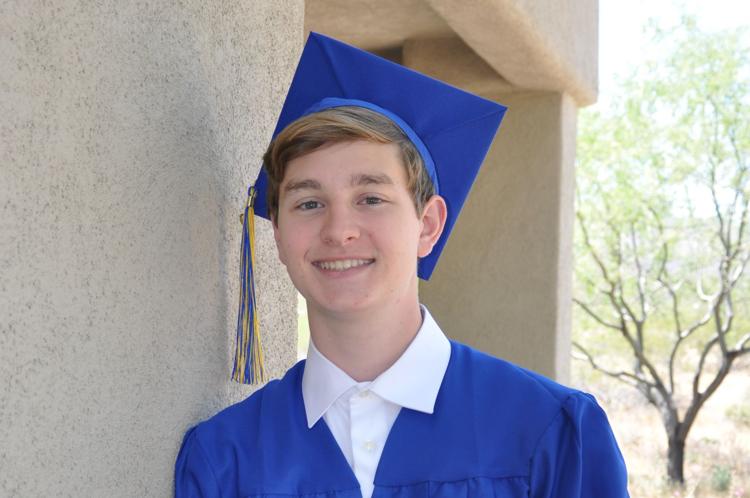 Marana High School senior Jude Lykins set a goal for himself nearly four years ago when he received his first transcript as a freshman: Graduate at the top of your class. He was ranked eighth or ninth in his grade and didn't really know what a "valedictorian" was, but he would not settle for anything short of No. 1.
Despite his high ranking, Jude, 17, described his freshman identity as more of a slacker—his only extracurriculars were orchestra and swim team—and said he did not blossom into his full potential until late in his first year.
A born competitor, Jude began his swim career as a member of the Continental Ranch Gators the summer before sixth grade.
"I had done a lot of other sports, but I'm [6 foot 7 inches], so running doesn't really mix with my joints very well," he said. "I tried basketball and didn't have the hand-eye coordination for that. I found that swimming was the best sport for me...It was calming and I really enjoyed it."
Most sports involve a strong reliance on teammates, but Jude said swimming appealed to him for its individualistic nature. The harder you push and the harder you work, the more you can improve yourself—a dynamic that appealed to him.
Jude said he found a second family in his Marana High School Swim team. Under coach Patrick Roberts, Jude enjoyed making friends just as much (if not more) than the competition.
"We've been through a couple different coaches, but for my sophomore, junior and senior years we've had a wonderful group of coaches that really made the team...Our goal was to get stronger and compete well, but [Roberts] made it a comforting environment, like we were a family more than a team," he said.
Over the course of his four-year swim career at Marana High, Jude said his highlight was competing for state. He qualified his junior and senior years, and said the three-day events were memorable because he spent a lot of time getting to better know his teammates and work toward a communal goal as athletes.
When he wasn't swimming, Jude was playing double and electric bass in the school orchestra. He began his music career when he was a child and his mother sat him down in front of the family piano. 
Jude freely admits he didn't see much appeal as a five year old, and said he was not bitten by the music bug for several more years. Once he picked up a guitar and began to play what he enjoyed hearing on the radio, Jude knew he found his passion.
"It's really fun to be able to express emotions through song, and change how the expressiveness in a piece can change the tone just by how the person is playing it," he said.
In fifth grade Jude was given the choice of joining the school band, orchestra or general music program. With a background in guitar he opted for learning another string instrument and set his sights on the double bass.
Jude's musical interests not only led him to the Marana High School orchestra, but to a spot in the Marana Community Musical Theatre, where he plays background for shows.
Jude said playing last year's "Guys and Dolls" performance was special.
"It was really fun being able to see the whole community of Marana, teachers, graduates, moms and everyone from the community, coming together to do a  musical," he said. "I got to see my math teacher playing one of the roles. An English and psychology teacher had one of the leads, and he was interacting with a friend of mine who graduated a year before. It was really cool being able to see all different aspects of Marana coming together."
Outside of music and swimming, Jude's interest in math led him to the president position of Mu Alpha Theta math honors society at the high school. He competed for three years in the National Mathleague and tutored students. 
His other academic achievements include a spot on the Marana Academic Decathlon team, where he competed at the state level. 
For being such a brilliant mind, Jude is incredibly humble and down to earth, according to Marana High math teacher Kelly Kulp, who added that the young man "embodies the spirit of Marana High School."
"He has a wonderful ability to laugh at himself when he makes mistakes," she said. "I've seen him grow as the president of Mu Alpha Theta. Jude has only ever exhibited patience and understanding when tutoring or participating in class. As a student in my class he had a tireless love of exploring relevant and obscure mathematics."
Jude also volunteered with Key Club, joined the National Honor Society and earned his Eagle Scout during his junior year.
A member of Troop 219, Jude replaced worn out fire-safety rings at Picacho Peak State Park and helped spread gravel for his Eagle project.
Jude spent all four years of high school at Marana, and has gone to school in the Marana Unified School District since he and his family moved to the area from Cincinnati when he was 7 years old.
While he has had plenty of fun over the years, Jude said that scouting not only taught him a slew of practical skills, but also instilled in him a sense of leadership and responsibility. As a swimmer, he learned to keep going and persevere in the face of adversity—like not reaching his goals at a state competition.
According to Jude's mother, Jane, the young man's most impressive quality throughout all his accomplishments and triumphs is his determination.
He's not just an academic, Jane said. Jude is a great guy to be around, too.
"He sets these goals and figures out whatever needs to get done to be able to reach them," she said. "He's a complete self starter. He would have to be on a bus to be at a meet at 6 a.m. and he would be up at 5 on his own making breakfast...he's an independent, self-driven guy, and it's been amazing being able to watch him develop."
A busy bee if there ever was one, Jude's hard work over the years has paid off in the form of the President's Merit Scholarship at the Colorado School of Mines, where he begins this fall in the Thorson Honors Program. Jude has not yet decided on a major, but applied math and/or biochemistry are on the table.
Looking back at his time at Marana High, Jude admits missing the end of his senior year due to COVID-19 was a bitter pill to swallow. Since the initial news of schools moving to the internet has rolled by in a stream of coronavirus updates, Jude said he has beenable to look on the positive side of life.
"As the weeks go by, you take it in stride," he said. "It sucks, but then you realize that it sucks for everyone, because no one's really having the time of their lives during the pandemic...You find other things to focus your time on. You learn to enjoy the Zooms and the Facetimes with your friends and what you can do rather than what you can't."