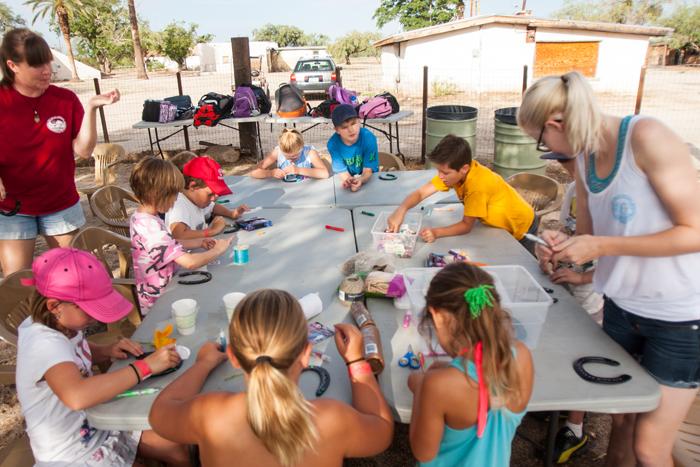 Oro Valley will not host any summer camp programming this year, the town announced last week in a Youtube video from parks and recreation director Kristy Diaz-Trahan.
In the May 15 video, Diaz-Trahan said planning for summer camp has always been her favorite activity of the year because it means planning new adventures, introducing kids to sports, arts and crafts and other fun activities—and it breaks her heart to not take part in that this summer.
"My team and I have worked really hard to try to figure out a way to ensure your childrens' safety and our staff's safety, and we just cannot come up with a way to ensure that 100 percent of the time," she said.
Summer camp in Oro Valley normally takes place at one of three main locations: Steam Pump Ranch, the Aquatic Center and the Community Center.
The ranch camp, also known as Art and STEM = STEAM, is a hands-on experience that allows campers to dig in the dirt, explore a variety of arts and cultures and learn how STEM has progressed with time. At the Aquatic Center, campers make use of the nearby James D. Kreigh Park, play sports, do arts and crafts and make liberal use of the pool and slide. The town's summer camp at the community center is a more traditional affair: Attendees are organized into age groups and rotate through a variety of activities like golf, tennis, pickleball, swimming, playing chess, dodgeball and more.
While there won't be camp this year, the parks and recreation department is still hard at work creating family-friendly activities with the goal of providing a few adventures for families and their kids. The town will unveil those activities on the parks and recreation Facebook page.
The town also reopened basketball courts at Riverfront Park Monday, May 18, though only for shooting and not games.
"We still want to make sure we're socially distancing and following best practices," Diaz-Trahan said.
Playground equipment and the aquatic and community centers will reopen June 1 under new guidelines. The aquatic center will only allow for lap swimming, while the community center will offer classes and programming at reduced capacity and extra space between gym equipment.
"In the meantime, our parks and trail systems remain open, restrooms remain open, and we hope that you enjoy the outdoors," Diaz-Trahan said. "It's beautiful out here...and we look forward to seeing you in our parks."