A bench with an excellent view of the vast Pusch Ridge scenery in Riverfront Park now bears a plaque reading, "Lyra Done, Queen of Oro Valley." While this plaque and a nearby mesquite sapling were placed there only last month, the story of the Queen of Oro Valley begins a quarter century ago. 
Lyra Done, 83, first moved to Oro Valley from the Tucson area in 1995. An accountant and realtor, Done moved with her husband in hopes of soon retiring, though that didn't mean she had any plans of slowing down. 
Throughout her life, she's involved herself with numerous local organizations, and still is involved with many. These include the Women of Impact Tucson, Northern Pima County Chamber of Commerce, Oro Valley Historical Society, and the Southern Arizona Home Builders Association. She also served two terms on Oro Valley's Parks and Recreation Advisory Board.
"I'm not important, I'm just involved with a lot," Done said. "The things that I do might be important, but I'm not… I have a lot of experience and connections, and I'm always trying to use them." 
According to Done, the title "Queen of Oro Valley" was a natural result of so many connections throughout the town. The title is even boosted by two tiaras adorning her home. 
"The title is the result of her consistent and long-term love and care of this community," said Greater Oro Valley Chamber of Commerce President and CEO Dave Perry. "She wears it proudly, and deserves it, honestly. She's been amazing for us around this place."
Even into her 80s, Done keeps busy with local groups, and is particularly passionate about helping Oro Valley youth. She is a supporter of Project Graduation through Amphi Public Schools, which hosts a safe celebration on-campus during graduation night, and the Pima County Joint Technical Education District, which helps students receive real-world technical work experience to help them enter the workforce. 
"I'm focused on the youth because they are the future," she said. "I don't join anything I don't actually want to be involved with." 
Done credits her longevity and tenacity to a handful of personal philosophies she lives by. Namely, she recommends people live "like a sunflower," that is, always facing the sun with the shadows to your back. She even keeps multiple sunflowers in her home, and even owns jewelry depicting sunflowers.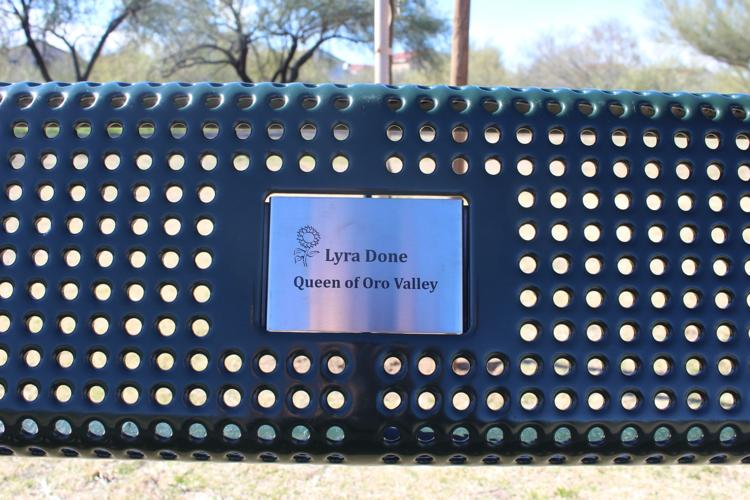 Done shared more of these philosophies at her dedication in Riverfront Park on Wednesday, Dec. 11. A crowd of nearly 100 gathered in the park for the commemoration of the bench plaque and mesquite sapling, including representatives from the Greater Oro Valley Chamber of Commerce, the Tucson Association of Realtors and the Southern Arizona Home Builders Association. In attendance were also former Oro Valley mayor Satish Hiremath, former council member Lou Waters, Golder Ranch Fire District Chief Randy Karrer, former state senator Steve Farley and several of Done's family. 
"The bench and tree were really driven by the Tucson Association of Realtors; Lyra is a long-time active member of the TAR, and they wanted to honor her service," Perry said. "They came up with the idea, and we contributed to the expense, along with TAR and Southern Arizona Home Builders Association." 
Although the celebration organized by the Town of Oro Valley was not a surprise, Done was still taken aback by the outpouring of support. She offered another one of her adages at the park, reminding the crowd to enjoy the lives they had.  
"It was very informal, but we had great, heartfelt remarks," Perry said. "What was really cool was that Steve Huffman (of the Tucson Association of Realtors) was the emcee, but then he opened up the microphone to whoever wanted to speak, and there were eight or nine different people who came up and gave spontaneous remarks about Lyra and what she meant to them. It was really moving, and I know she was overwhelmed by the whole thing, honestly." 
While she is passionate about Oro Valley, Done says she "has a heart" for all of Pima County, previously being involved in causes and groups throughout Marana and Tucson as well. 
"Just look at the typography, there's a true God-given beauty to Oro Valley," she said. "The only shortcomings might come from us and those governing not taking care of that beauty. In a small town called Oro Valley, Arizona, there's a little park bench with my name on it. Of course I'm proud of that."