After 16 years on the job, Commander Kara Riley will lead the Oro Valley Police Department as its new police chief. 
Riley's appointment was approved by unanimous decision of the town council last Wednesday night. She will replace longtime police chief Daniel Sharp, who ends his 20-year tour of service with the department Feb. 21.
Riley joined OVPD in 2004 after serving with the Tucson Airport Authority for 11 years, where she earned the rank of sergeant. She was promoted to patrol lieutenant in 2007, then to support services in 2009 and finally to executive officer–lieutenant in 2011. She was most recently promoted to commander in 2017, overseeing support services.
Outside of law enforcement, Riley also holds a Master of Arts in Education from the University of Phoenix.
After spending the better part of two decades in Oro Valley, Riley said the chief's position was the next logical step—and a career-long goal.
"I've worked with the finest men and women in the law enforcement profession for the last 16 years, and there's no doubt that I would love the opportunity to be able to lead them into the next chapter," she said during a Jan. 28 meet and greet with community stakeholders.
Riley will assume her new role Feb. 22.
The search for a new top cop officially began after the town council accepted Sharp's resignation last summer, though he announced his intentions last February.
"It has been my honor and privilege to lead a department made up of dedicated men and women who serve our community," Sharp wrote in his February 2019 memo. "As you know, I have been able to travel throughout North America and interact with countless law enforcement agencies. From my observations, there is no finer agency than the Oro Valley Police Department and the reason is due to the professional staff who work and volunteer here."
In that memo, Sharp added that he committed to an internal succession plan since he joined the department in 2000, and was confident that the selection of the next chief of police "can be from the ranks of the Oro Valley Police Department."
Sharp's recommendation for an internal-only search was echoed by the Oro Valley Police Officers Association and the Fraternal Order of Police #53, as well as retired deputy chief Larry Stevens, who spoke at the July 31 meeting.
"The one thing that I knew when I retired was that the Oro Valley Police Department would continue to excel because of the members that are still here and now eager to take on even larger leadership roles," Stevens said.
At that meeting, the council ultimately decided against Sharp's recommendation and voted for an internal-external, nationwide search.
At the time, town staff calculated that an internal candidate-only recruitment for police chief would last two to three months, with a preliminary cost estimate of up to $4,500. A process considering internal and external candidates would require involving an executive search firm, and was estimated to last three to six months, with a cost estimate of up to $50,000.
Voting for the expanded search were Mayor Joe Winfield and council members Melanie Barrett, Josh Nicolson and Joyce Jones-Ivey. Council members Rhonda Piña, Steve Solomon and Bill Rodman voted against the measure and urged their colleagues to save time and money with an internal-only search.
But Winfield said he'd rather have a larger pool of potential candidates.
"An internal-external process simply casts a wider net," Winfield said. "It provides an opportunity…to ensure that the community can feel confident that we have the best of the best."
Barrett backed Winfield, saying an expanded search would eliminate the perception that finding a new police chief wasn't a "competitive and open process."
The town contracted Ohio-based Novak Consulting Group for $24,900 to handle the search.
The firm conducted interviews with town council members, department command staff, town manager Mary Jacobs, the Fraternal Order of Police and community executives, and developed a survey for residents.
Before two months passed, three members of the police department expressed interest in the chief's job: Riley and fellow commander Chris Olson, along with Lt. John Teachout.
Olson has worked in law enforcement for 27 years, including 18 years with the department. He is the commander over Support Services, which includes Property and ID, Communications, SROs, Investigations, Community Resources, Fleet, Records and I.T. Teachout has been a police officer for 24 years and started with the department. He directly supervises the Traffic Division, Community Action Team, K-9 Unit, DUI, SWAT and Negotiators.
Council met several times in executive session in the months following the July 31 meeting to discuss the police chief search, and news remained dormant for some time. 
In December, after several council members urged the release of information, the town posted feedback from the resident survey and focus group to its website.
Of the 671 respondents to the survey, approximately 95 percent were town residents. When asked "What are the three most important traits you are looking for in the next police chief?" among those answers were "Full of integrity," "Experienced" and "Honest."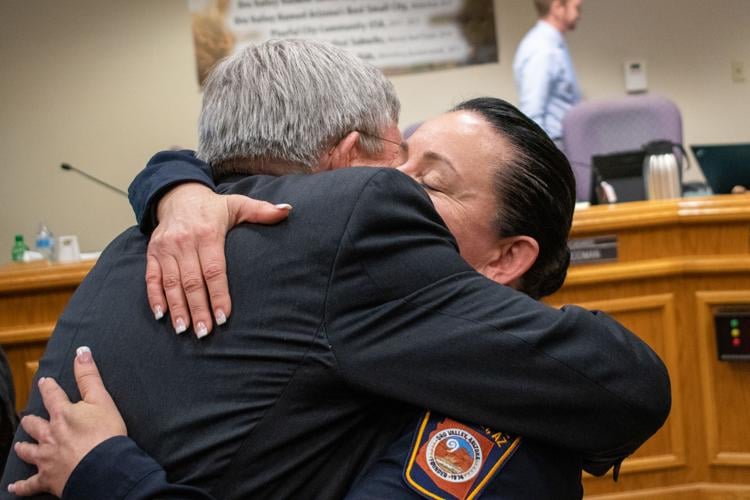 Of the 1,977 discrete responses, 98 included "someone who knows the town," while only 65 responded with "internal candidate."
When asked what they believe the new chief's top priorities should be, most responded with "Public safety," "Community engagement" and "Continuing current operations."
Novak Consulting also met with 10 Oro Valley community, business and educational leaders in a focus group. Included in that group were Pima County Sheriff Mark Napier, Oro Valley Hospital CEO Erinn Oller, University of Arizona College of Veterinary Medicine Dean Julie Funk, Golder Ranch Fire District Fire Chief Randy Karrer and Greater Oro Valley Chamber of Commerce President and CEO Dave Perry.
The focus group was asked to give their opinion on the department's strengths, what they would change or add, the best way for the next chief to "get to know" the community and top priorities.
Unlike the community survey, the focus group was primarily interested in an internal candidate, and listed such accomplishments like Project Graduation, the strong School Resource Officer Program and volunteer home checks among the department's strengths.
The focus group was light on its critique of the department. Listed first among "things they would change" was "keeping the culture" and "staying a part of the community."
Some reference was made, however, to the department possibly becoming complacent in its use of funding and being fully prepared for a tragic event like a school shooting. 
The group also communicated that the department should maintain its strong community presence, and work to further develop interpersonal relationships among the populace.
Outside of the release of Novak's materials, no further information about the search was made public until Jan. 21, when the town included the names of four finalists for a Jan. 27 executive session agenda.
Since Novak began its search last November, 70 applicants from 31 states, the District of Columbia and outside the United States applied for the position. According to  the firm, applicants had an average of 27 years of law enforcement experience and 10 years' experience at the command staff level.
Included in the finalists list were Cmdrs. Olson and Riley, as well as former Chandler Police Department Cmdr. Gregg Jacquin, who retired in 2018, and former Police Chief Chris McCall. McCall retired from his role with the Hobbs Police Department of Hobbs, New Mexico, in February 2019.
The Hobbs Police department made national news in 2017 when a lawsuit was filed by three former officers against the department and several of its personnel.
According to an October 2017 Associated Press report, the department allegedly "forced officers to target people of color in minority neighborhoods to make quotas, retaliated against those who complained and subjected black officers to humiliating episodes of discrimination."
Federal court documents allege officers were told "that the black community is where officers stay to fill their quotas," searched vehicles without warrants and ignored multiple complaints filed by officers.
The Hobbs Police Department issued a statement Oct. 10, 2017 (five days after the suit was filed) denying any such action by its officers.
"Having not been provided with a copy of this lawsuit, the mere basis that was played out in a media report last night goes against all values and the mission of the Hobbs Police Department," the statement read. "The Hobbs Police Department has worked hard through numerous community partnerships and programs to grow relationships in our community between the department and our citizens. It is unfortunate that these individuals, along with this law firm have chosen this path to paint the Hobbs Police Department in such a negative light."
A public meet and greet event took place the morning of council's Jan. 28 executive session, at which time it was revealed that Olsen and McCall were removed from contention, leaving only Riley and Jacquin.
After council hosted its executive session later that day, it was announced on the town's website that Riley was selected for the position and that council would officially approve the decision Feb. 5.
The council chambers were standing room only that night, with dozens of officers in attendance to show their support for both Riley and Sharp. The latter received a standing ovation during the meeting.
Riley said she was "profoundly honored" to be selected for the job, and thanked her family, the department, the council, town staff and chief Sharp for their various leadership roles and support over the past year.
"You are the epitome of what a genuine law enforcement professional is," she said, addressing Sharp directly. "I want to be among the first to thank you for your 41 years of service to our noble profession."
Speaking with Tucson Local Media before the selection, Riley said her primary goal for the first few weeks of her tenure will be providing a "seamless transition" between herself and Sharp and focusing on the upcoming budget. 
Aside from taking a "deep dive" into the department's budget and funding priorities, Riley said she's interested in "getting back to basics" and finding out what the line-level officers need, finding out what works for them and analyzing  their day-to-day work. 
"We can talk about where traffic accidents are happening, but I really want to dive deeper into where crimes are occurring and look at some of the trends that we're going to be dealing with," Riley said.
Internally, Riley said she will look at deployments and officer retention, and is interested in how other jurisdictions handle crime and its impact on Oro Valley. She also mentioned an interest in combatting fentanyl and opioid use, as well as taking on teen vaping "head on."
Despite her wide range of goals for the department and its work in town, Riley said the greatest challenge she will face as the community's top cop is replacing Sharp.
"People are confident and comfortable with the leadership that's been here, and now it's a change," she said. "You have to be able to reassure both the internal members of the community, but external as well."
When asked how her leadership style will differ from her predecessor's, Riley was open about the fact that it may seem, in many ways, to be a similar management style. Despite the potential similarities, Riley said "The Kara Riley Leadership Style" is based on leadership pillars: surrounding yourself with good people, and those whose strengths are your weaknesses; treating people how you want to be treated; and always remembering where you started.
Regardless of the differences in style, Sharp said the town council made the right decision in selecting Riley as his replacement.
The two law enforcement officers met well before Riley even started at the department. Sharp was the training director at the state academy when she arrived. Even back then, Sharp was impressed by Riley's skills and determination.
"She's always had a very strong work ethic and she's very committed to the community, she's committed to every member of the department," Sharp said. "She's just a consummate professional."
As a member of the department, Sharp said Riley maintained her impressive work ethic, and thanked her specifically for restarting the department's Public Information Officer position, and rebuilding relationships with the media.
Though she's been instrumental in some of the department's work over the last few years, Riley will take over the job before the month is over—without the months of transition time Sharp hoped to have.
After his notice of retirement was accepted by council, Sharp said he would want several months to work with any candidate to help ease the transition, make introductions across the region and answer any last-minute questions.
"It would have been nice to be able to do that, but she will get up to speed," Sharp said. "The reason for the year's notice was so that we wouldn't have to do it this way."
Sharp called the entire process "stressful" for the department, and said he would have liked to see more public involvement along the way.
"There was no information out," Sharp said. "There were a lot of questions, and I was kept at arms-length during the process. I didn't have any information…I think that was concerning to members of the public. Why is this appearing to be so secretive and drawn out?"
Mayor Winfield disagrees with the assessment that selecting a new police chief was a secretive process, saying the council followed procedures laid out for them by town staff and Novak.
Winfield maintained that choosing the chief of police decision was most likely council's most important choice from the dais, and needed to be handled correctly.
"It's a high profile position, there's some necessity for protecting those individuals to ensure you get as many qualified candidates as possible."
The mayor also added that council worked with both residents and the focus group to ensure public input was received.
Despite the journey, Sharp is still happy with the destination and the selection, and said aside from the positive relationship between the department and the community, his greatest accomplishment is that Riley is taking over for him.
"I fulfilled that commitment I made almost 20 years ago," he said.