What does it take to be recognized as the most outstanding wrestler in a state tournament with 45 other high school teams competing?
"I spend about five days a week practicing for about two and a half hours a day," said 17-year-old junior Gilbert Rodriguez, varsity wrestler at Mountain View High School. "On the weekends I go for some runs to get my conditioning in, so whenever I get to the final show I'm ready to go."
Rodriguez, who wrestles in the 120-pound weight class, took home the Outstanding Wrestler award after beating last year's defending state champion, senior Pedro Billups of Coconino High School at this year's 56th Annual Doc Wright Invitational in Winslow, Arizona on Jan. 18. Mountain View High School also pinned down the first place spot at the tournament by a team score of 235.5, with more than half the Lion's wrestling squad placing in several weight classes. 
"I've been coaching for 26 years and have coached many good kids," said Mountain View Wrestling Coach P.J. Ponce. "Gilbert is a tough kid. He breaks down his opponent mentally and physically and we saw that when he wrestled the former state champion from Coconino and beat him pretty handedly." 
Rodriguez comes from a wrestling family. His father, Gilbert Rodriguez Sr., won the state championship title for San Manuel High School in 1986, and his uncle also won the title a year later.  With wrestling in his blood, Rodriguez found his love for the sport at a young age. In fact, he took second place in his first wrestling competition at 5 years old. 
"I got into it because my dad loved wrestling," Rodriguez said. "I started beating up on pillows and whatnot. Then we went to my first tournament and I just fell in love with the sport." 
During his freshman year at San Manuel High School, Rodriguez won his first state title (106) and took second place against Santa Cruz High School his sophomore year. While he still lives in San Manuel, Rodriguez said he transferred to Mountain View this year to have more opportunities to become a better wrestler and work with some of the best in the state. 
"I live about an hour away in San Manuel and we drive every day to school," Rodriguez said. "I love it (in San Manuel) but there's about five wrestlers and only one close to my weight class, but even he is around 90 pounds and I'm about 125."
Out of 21 matches Rodriguez has wrestled this season at Mountain View, he has only lost once. It was a match against wrestling powerhouse Sunnyside High School. 
"It was a good loss for me," said Rodriguez. "I didn't keep my head down and that loss just made me better and push harder to get to the state championships."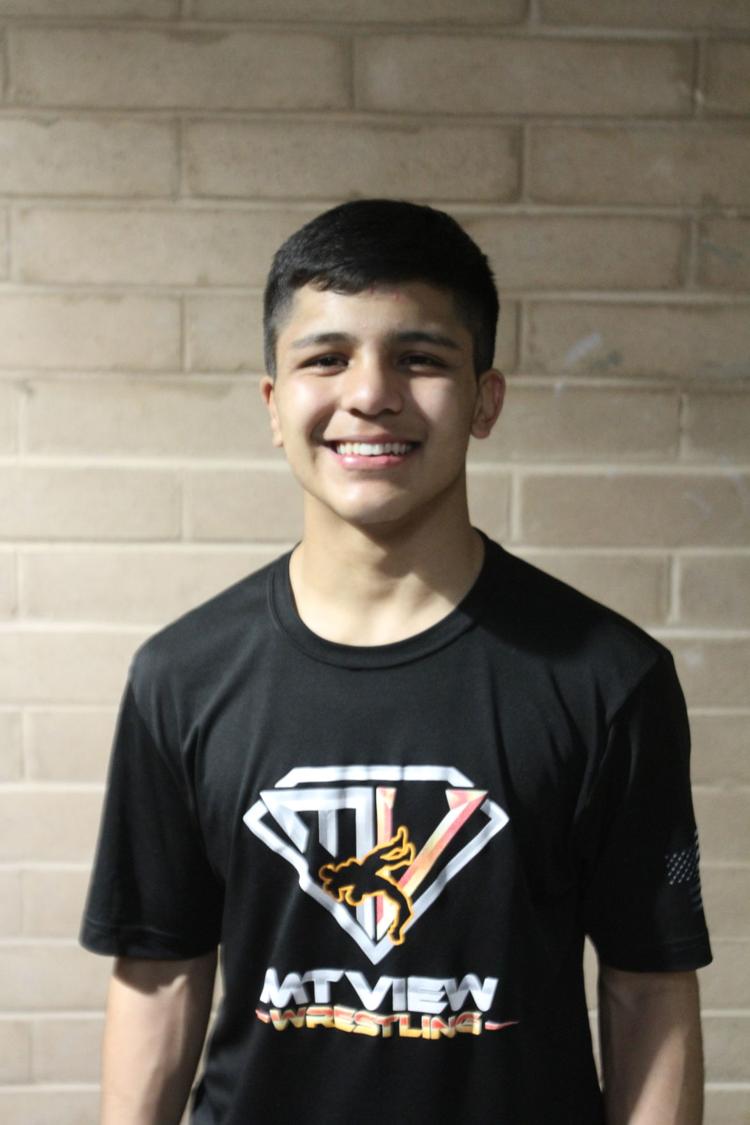 Outside of his love for the sport, Rodriguez said getting a college scholarship is his main reason for his intense wrestling work ethic. His hometown, San Manuel, is a former 'company town' for the San Manuel Mine, which closed in the early 2000s after the price of copper dropped. Like many kids from small towns affected by economic downsizing, Rodriguez has dreams of moving to a larger city with more opportunities than a place like San Manuel may be able to provide. 
"My dream is to go to college at Oklahoma State," Rodriguez said, "Ohio State, Iowa, Cornell...I'll take whoever is going to give me the chance."
Rodriguez has just a handful of wrestling matches left before he'll be competing in this years' Arizona Interscholastic Association next month. With all the hard work and dedication Rodriguez has put in over the years, the young man says he's ready for the big show. 
"It's blood, sweat and tears. You get what you give to it," Rodriguez said. "To go out there, bust your butt and then get your hand raised. That's the best feeling there is."