One of downtown Tucson's most popular pizzerias is coming to the northwest after the family behind Reilly Craft Pizza decided to open a second location near the intersection of West Ina and North Oracle roads.
The Fentons, made up of chef and owner Tyler, general manager Courtney and "finance guru" Zach, opened their downtown establishment Aug. 1, 2012, and serve Italian fare with some American inspirations. 
There's plenty of craft, artisan style pizza and housemade pastas to fill the belly of any hungry patron, plus a selection of cocktails and beers.
"We kind of like to play with the fact that we're an Italian restaurant in America," Tyler said. "So, we have dishes that are very Italian-American, dishes that are pretty classic Italian, but we do everything with a focus on quality."
That dedication to quality, local ingredients and a seasonally changing menu won over foodies and passersby alike—and it all began when Tyler traveled alongside Tucson culinarian Daniel Scordatto on a research trip to Seattle. 
While visiting the Wood Stone Oven Corporation (among other stops), plenty of pizza was enjoyed, and Tyler realized there was more to food than simply sauce and dough.
"That kind of opened my eyes," he said. "It was the first time I had pizza that wasn't just cheese and pepperoni...there's a whole new world out there."
Those life-altering bites of pie have since grown into a business for the Fentons, who've more recently looked at a lot of different projects, including opening a second location or a different concept.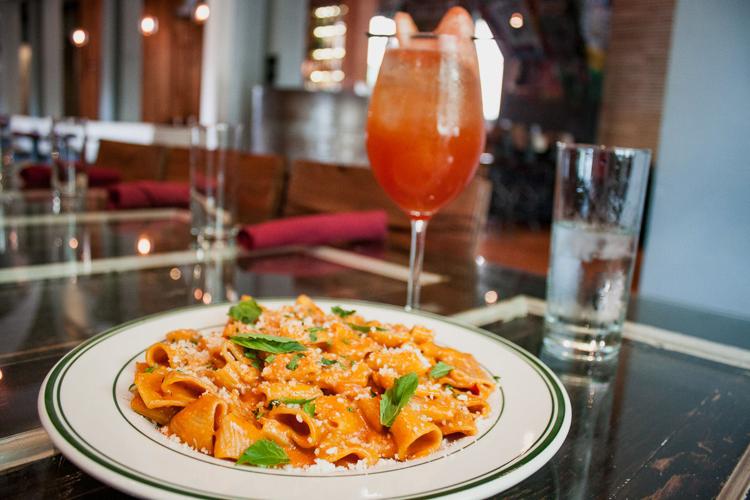 Despite looking to Phoenix for a potential second spot, the Fentons' eyes were drawn back to Tucson after a phone call from Tap & Bottle's Rebecca Safford. 
Safford informed Tyler that the former Subway directly adjacent to Tap & Bottle North was available, and urged them to consider moving in.
Safford said she and her husband, Scott, reached out to the Fentons for two reasons. First and foremost, they love Reilly's food. Secondly, and more selfishly, they wanted to have the delicious pizza and customer-favorite brussel sprouts closer to their own business.
"I think that having more food options in the Plaza helps all businesses," Safford said via email. "The Cottonwood Plaza has an awesome focus on local food and beverage spots, Guadalajara Grill, Truland, Tucson Tamale, Tap & Bottle, and the addition of Reilly's will add to the local flare of the plaza. I know that having Reilly in the plaza will bring more people to come hang out and enjoy a meal."
According to Courtney, the north side location made a lot of sense.
"It has the brick arches, it kind of ties into the aesthetic here," she said. "We have this whole historic meets modern vibe here, and we're able to achieve that in that space as well because it's obviously a new building but we're able to still create a familiar environment—and the plaza that it's in has a lot of charm."
Courtney said guests can expect craft cocktails and a full bar, and Tyler added that the menu will be similar to the downtown location—with some changes. Dough will only be made downtown, ensuring both restaurants serve the same product, and some popular items like brussel sprouts are making the trip north. 
The restaurant, which expects to hire between 25 to 30 employees (both part and full time), is located at 7262 N. Oracle Road, and will open next year.
"We've been welcomed by everyone with open arms, and it's nice to be able to extend that reach to be easier and more accessible to people living on the northwest side that could use a great meal and warm hospitality," Courtney said. "We've been welcomed by everyone with open arms, and it's nice to be able to extend that reach to be easier and more accessible to people living on the northwest side that could use a great meal and warm hospitality."