Robert Schewbel, Ph.D., is a local psychiatrist who uses his professional experience to write self-help books ranging from relationship advice to addiction recovery. His latest book, "Leap of Power," is based on nearly 50 years of working with clients to overcome alcohol and drug problems.
While writing "Leap of Power," Schewbel developed the "Seven Challenges" drug counseling program for his clients. Schewbel included his Seven Challenges in "Leap of Power" to make his knowledge available to the public rather than limiting it to just program participants.
"I wanted to write a self-help book that tells people that they absolutely can take control of their lives, including their use of alcohol and other drugs, including opioids and other highly addictive drugs," Schwebel said.
Schewbel decided to avoid large publishers for "Leap of Power," as he already had experience with self-publishing. In its first week on the market, "Leap of Power" hit No. 1 in Amazon's self–help for alcohol category.
How is it different from your previous books?
In the 1990s I wrote two trade books on drug prevention (Saying NO is Not Enough, still selling and soon to be released as an audiobook by Blackstone Publishing and Keep Your Kids Tobacco-Free). I also wrote a book on my other major area of professional interest: loving relationships (Who's on Top; Who's on Bottom: How Couples Can Learn to Share Power). Then for 30 years, almost all of my writing was dedicated to developing program materials for my drug-counseling program, The Seven Challenges. It was worth the effort. "The Seven Challenges" is being implemented in hundreds of organizations in 40 states and in Canada and in Germany. More than 150,000 people with drug problems have used it. Leap of Power is different because I wanted to translate all that I have learned from these many years of experience writing, leading and developing a program into a book for a wider audience. I saw the need for a book that is empowering, respectful and gives practical advice. "Leap of Power" is an important alternative to traditional approaches that denigrate people with drug problems; tell them they are powerless; lump all drug problems into one basket and labels then as "chronic and relapsing;" and do not give people a choice as to how and when they might want to change their drug use behavior.
I wanted to write a self-help book that tells people that they absolutely can take control of their lives, including their use of alcohol and other drugs, including opioids and other highly addictive drugs. I wanted to offer specific help and inspire people with drug problems both to start making changes and to stick with them. "Leap of Power" offers specific and practical help for everyone, even those who have had difficulties changing in the past.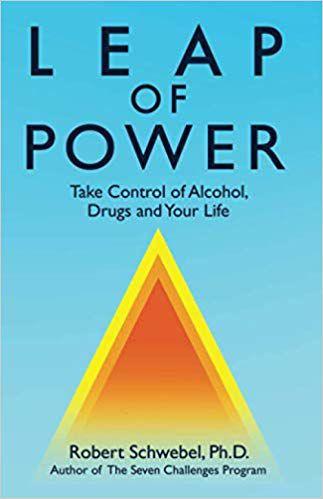 What is the most difficult/important challenge of "The Seven Challenges?"
Some are harder and more difficult for different reasons.
Challenge One is about being honest with yourself – not very easy if you shame yourself or are hard on yourself when you make mistakes. Plus, people say they will make changes, like New Year's resolutions, and don't keep them. This Challenge talks about the Challenging Voice – do you mean it; gonna keep at it; resist temptation when you really don't want to resist, etc.
Challenge Two is not difficult, but it's hugely important. People know drugs are potentially dangerous and perhaps recognize that they've been harmed by using them. But they keep coming back for more. So, they have to figure out what's so compelling; what they like so much about drugs and what needs they are trying to satisfy by using them. Then if they decide to quit or set new limits they will know what they are losing and have an understanding of what challenges they will have to face to succeed. That is, how will they satisfy the needs they were previously satisfying by using drugs…or how will they cope without those needs being met.
Challenge Four is strangely odd. People are so used to blaming themselves for everything or sometimes doing the opposite, blaming the world. When they blame themselves, they are paralyzed. When they blame the world, there is nothing they, themselves, can do about a problem. So, the hard task here is finding the sweet spot. Figure out how the conditions of your life led you to this point. It's not whining or complaining. It's just being fair to yourself. Then, step up to the plate and take action.
Challenge Seven is hard because it is all about follow-through. It offers lots of practical advice. The whole process of avoiding and resisting temptation and having the grit to follow through with decisions requires enormous effort. It is the longest chapter in the book, but loaded with practical suggestions. 
Bivian Contreras is a University of Arizona journalism student and Tucson Local Media intern.