Guests at the Tucson Mall may now hear classical musical echoing through the corridors, but it won't come from the loudspeakers. Catalyst, the new "makerspace" of the Southern Arizona Arts and Cultural Alliance, now serves as a practice area for the Southern Arizona Symphony Orchestra, a gallery for local painters, a lab for robotics and much more.
Catalyst is more than a relocated headquarters for SAACA, it is designed to serve as a communal space for local artists and creators, and house many of the events SAACA will facilitate in the future. 
Located on the first floor of the Tucson Mall, Catalyst includes four specialized coworking areas: a room for robotics and engineering, a room for arts and crafts, a teaching kitchen, and a community room. 
"It's a nonprofit art space meant for the community to use," said Catalyst Manager Kevin Larkin. "It's exactly what the name implies: a facilitator of activity… Our mission is how art inspires and culture unites." 
The 14,000-square-foot facility hosts community art and culture classes, and even features work from local artists in a "rotating gallery," much of which is for sale. Pieces include murals by Gina Ribaudo, ceramics by Mary Sherwood, sculptures by Creative Machines and pieces from the Tucson Quilt Project. Many of the featured artists will even teach art classes at Catalyst. All showcased artists are from Southern Arizona. 
Larkin said Catalyst is intended to serve as a "creative dot-connector" for Southern Arizona, such as if a local school wants a computer class, they can connect them to a computer teacher in their robotics and engineering room. Catalyst will also operate local art markets and host theater.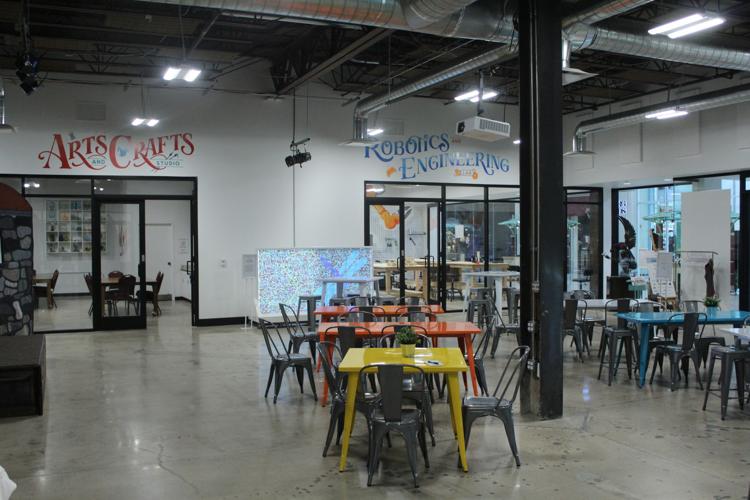 For SAACA, Catalyst is a long time coming. While they've rented a space in the Tucson Mall for years, a want for a communal space dates back to when SAACA was known as the Greater Oro Valley Arts Council. According to SAACA executive director Kate Marquez, during cutbacks due to economic downturn in 2009, GOVAC reinvented itself to work with other communities, such as Casa Grande, Tubac and Marana. The organization changed its name to SAACA, and expanded into other collaborative community events. 
"Over the course of 2009 to now, we really have learned what is needed in the community," Marquez said. "For us, it started about six years ago, the idea of a space that can house all the different disciplines of artists and dimensions of engagement of arts and culture under one roof. Of course it started very small, as a gallery for artists or a retail space. But it grew into more of a learning space." 
In serving as a venue for the community to gather and create, Catalyst also aligns with new goals of the Tucson Mall. With a large amount of retail transitioning online, many physical malls are reinventing themselves from housing stores to operating recreational spaces and galleries. 
As SAACA already maintained a relationship with the Tucson Mall, the location was an easy fit. Marquez said it was "a natural conversation of growth."
"It grew into such a big conversation that they agreed to fund our craziest idea, which was a very large space that can accommodate spaces for all these different disciplines… Right now, [Tucson Mall] has a puppet maker, a digital arts production company, we have nine local purveyors and food makers, there's tattoo shops, a community theater, an escape room," Marquez said. "They're revisioning Tucson Mall over the next five-to-ten years as an arts and cultural hub."
Marquez anticipates Catalyst will change over the years, and said it is built to be flexible. As for operating costs, Marquez said SAACA has already built such a loyal attendance through their years of cultural programming around Tucson that Catalyst has a strong foundation to begin with. 
"The Tucson Mall, with their partnership, has been able to endow this project so it can be sustainable for us," she said. "We have an operating model at Catalyst where we can invest and put money back into it to grow it. But really, we're doing that in collaboration; it's not just SAACA's project, we have organizations like Sonoran Glass Academy, we have 10 professional photographers who are using the space, we have over 30 chefs that will be functioning in the space. So all of that is collaborative in such a way that it does create a sustainable model."