On Wednesday, Jan. 22, friends and faculty of the Gaslight Theatre and Music Hall gathered to celebrate the life of Jesus Limon, who passed away December 2019. Not only did the memorial show at the music hall celebrate Limon's life, but friends fondly remembered his acting skills, singing prowess and remarkable ability to cheer anybody up. 
The evening began with a performance by regular Gaslight band The Tributaries playing some of Limon's favorite songs, although according to the band, Limon was known for having a large amount of "favorites." He was remembered as even going so far as to tell audience members that they were attending his favorite show, or sitting in his favorite seat. 
"Jesus Limon was someone who impacted everyone's life here in one way or another," said event emcee Michael Conrad. "No matter what way we knew him, we knew him all the same: quick-witted, charming and willing to lift anyone up." 
The memorial show also included a slideshow featuring the many Gaslight Music Hall performances Limon was involved with during his four years as both an actor and theater manager around Gaslight. Limon performed in shows such as the "Beach Blanket Be-Bop," "Murder at the Copacabana," "Rockin' Around the Christmas Tree" and many more. 
"Jesus was one of those people I could always depend on," said Heather Stricker, general manager for the Gaslight Theatre and Music Hall. "No matter what I needed, he was on it."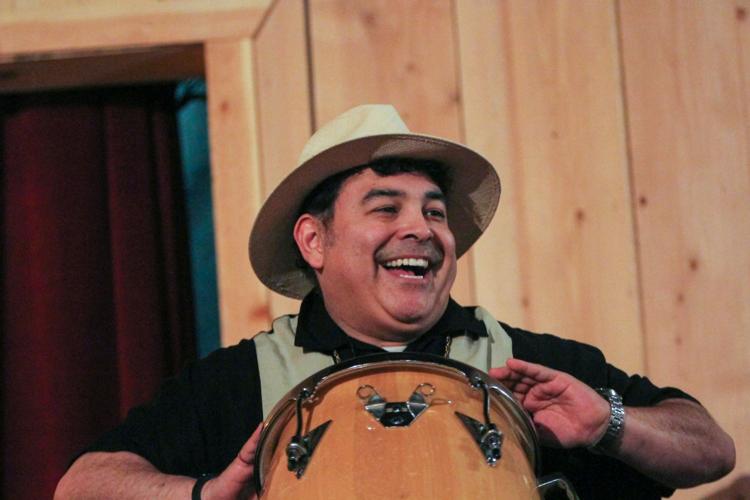 Limon performed with multiple other theater groups around Tucson, including Arts Express, the Arizona Rose Theater, Marana Community Music Theatre and Musical Mayhem. He even performed at the Great American Playhouse, whose location Gaslight Music Hall took over after it closed. 
"Jesus is one of those people that's so special, that there's no amount of words in song, scripture or poetry to describe the impact he had on us," Conrad said. "You can meet someone like him and feel like you've known him your entire life… He was definitely the court jester, the king's fool. He knew there was power in laughter, and there was strength in making people happy." 
At the memorial show several fellow actors and friends paid tribute in a variety of ways. Many sang fitting songs, such as "Vaya Con Dios," while others offered poems, or played highlight reels of some of Limon's acting moments. 
Born in 1973, Limon was an alumnus of both Tucson High Magnet School and the University of Arizona, and also served in the Navy. On Sunday, Dec. 22, 2019 Limon died in a single-vehicle crash near Speedway and Interstate 10.
Throughout his acting career, Limon also placed among the top five best actors in Tucson Weekly's Best of Tucson competition four times.
"One of the things I loved most about him was his nerdom; I'd never been corrected on a Spiderman factoid until I met him," said Gaslight actor Jeremy Vega.
Vega recalled how kind and caring of a person Limon was. While rehearsing for "She Loves Me," Limon said how difficult it was for him to act as angrily toward Vega as the script called for. Backstage after performing, Vega said Limon even hugged him and apologized for "acting rude" on stage. 
Although tears were shed, this is not to say the memorial was not entirely melancholic. The crowd clapped along to the music of The Tributaries, and laughed at reminiscences of Limon's humorous demeanor. At one point, Conrad asked the crowd to raise their hands for how long they had known Limon. Members of the crowd had known him for two, five, 10 and even 20 years. 
"Any time he smiled, you smiled," Conrad said. "That's just the way it was." 
The Celebration of Life was organized by Gaslight actress Samantha Cormier. 
Rest in peace, Jesus Francisco Limon: March 23, 1973 — Dec. 22, 2019.