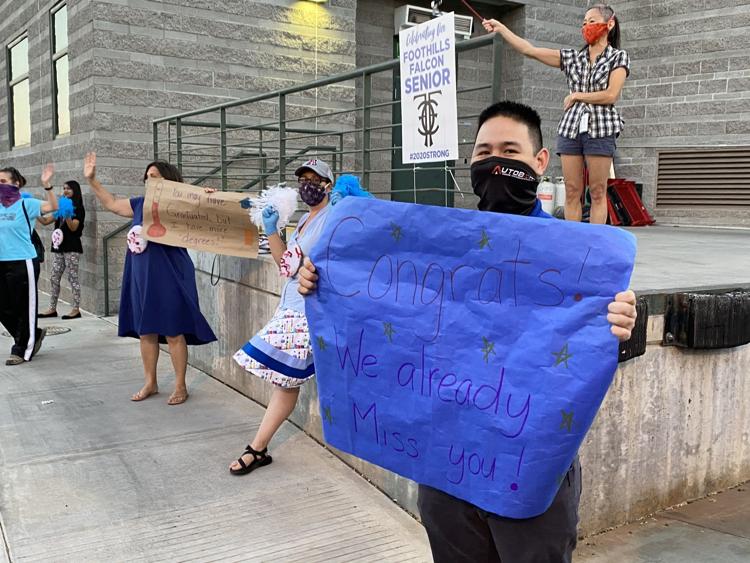 The parking lot of Catalina Foothills High School was the site of celebration earlier this month when teachers and staff dressed up, painted signs and cheered on 415 graduating seniors whose parents drove them in a car parade through the front of campus.
Some teachers dressed as Star Wars characters, while others wore togas, and all were excited to see familiar faces after months of Zoom and Google Classroom meetings. In addition to a car parade, the district hosted a virtual graduation on the school's website.
Small groups of students were invited to campus over the course of several days and filmed collecting their diplomas in their caps and gowns. The hour-plus video is live on the school's YouTube page, and includes an address from principal Jody Brase and speeches from the senior class president and select students. The high school does not recognize valedictorians.
Maya Benita,18, was one of those speakers, though she admits she was at first a little skeptical of the parade and virtual  graduation concepts.
"I think most of my friends and I joked about it being our names on a PowerPoint with a voice over of someone reading it, but we were pretty excited when we heard they were going to be doing a parade—and the parade was awesome," she said. "I really hope they make that a tradition every year. It was so cool to have our teachers line up."
As she said in her speech, Benita's senior year did not end the way she envisioned it would, especially when she thought she and her friends wouldn't walk across the stage this May and pick up their diplomas.
Luckily, that never came to pass.
"I think being able to cross the stage was something that everybody wanted to do, and that's the iconic graduation moment we always dreamed about," she said. "Being able to still do that, even though it wasn't in front of our entire school and our family and friends, it was still a pretty cool moment."
Even though she read a letter to her fellow graduates as part of the digital ceremony, Benita said she initially wasn't planning on participating because she doesn't have a lot of public speaking experience. A wave of emotions changed her mind, and she decided to read her open letter to the senior class after receiving encouragement from a teacher.
According to principal Brase, the altered graduation and parade were a result of the district's effort to make sure the seniors could be involved in some kind of ceremony before heading off to vacations, professional careers and college. Bringing together 2,000 people anytime soon isn't a possibility, so admin staff got creative.
"I'm happy that we resolved some of the tension between the students, parents and the school by trying to manage something that was meaningful for the kids," Brase said. "They wanted things to be different and we couldn't control that, so we were trying to do our best to provide memories and to provide something special even though we knew we could never hit the same mark as our traditional graduation—but we were close."
For Benita, the dual ceremonies were the perfect way to wrap up her four years at Catalina Foothills.
High school was busy for Benita, who will continue her education this fall at the University of Arizona. She will play golf for UA, and plans to study either biochemistry, neuroscience or family studies and human development.
Looking back at her time as a Falcon and a longtime student in the district, Benita said she was introduced to "incredible" teachers throughout her life, and met some of the best friends she knows.
Benita added that the district pushes its students to succeed, and creates an environment in which anyone can achieve their academic goals.
"It was such a great experience," she said. "I got the combination of great academics with good athletics, and I was able to succeed at both levels there."
Benita said finishing senior year at home was a trying experience, though she stayed connected with friends and spent plenty of time with family. Despite the challenge, Benita said her teachers have made the experience a little easier.
The hard work of Falcon educators was also recognized by Brase, who said the COVID-19 pandemic has shown her just how strong and resilient teachers and students are, and how resourceful they can be on a moment's notice.
"I've always admired teachers, of course, and students for how resilient they are," Brase said. "How flexible, creative and all those good things. This was a true test, and they exceeded my expectations on their ability to cope and manage with something so huge. It was a giant hurdle to overcome."
Cover photo courtesy Catalina Foothills School District.