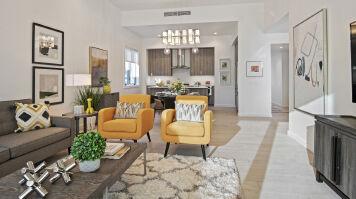 Aging Well in the home is evolving, due to the growing popularity of smart speakers and other connected devices. Whether you like to relax to music, keep up with current events, or catch up with friends on a video chat, you can do so with a simple voice command. Imagine applying that convenience and flexibility to controlling your home's lighting, temperature, and even doorbell.  
This type of smart-home technology is built into some of the Villa Homes at Splendido, an all-inclusive community for those age 55 and better in Oro Valley. "This is a pilot program we're trying out," explains James Edwartoski, executive director of Splendido. "Residents who move into these new homes can take advantage of the technology as soon as they move in. We provide an iPad loaded with the necessary apps, so they don't even have to wait to download anything to their own smartphones or tablets." 
Convenient Connections
Each of the "smart" Villa Homes comes with an installed package of Google products that provide unique, often interconnected conveniences and efficiencies, including:
Smart speakers in the kitchen and bedrooms allow the home's residents to check the internet with verbal commands, play music, etc., and control many other features from adjusting the lights to changing the temperature. The kitchen hub includes a screen and video camera for video chats. 
A smart doorbell provides added security and peace of mind when strangers come to call. Residents can view and speak with visitors at the front door from any room of the house, or remotely through their smartphone.
Smart light switches let residents adjust lighting with verbal commands, and they can set certain lights on a timer from inside the home or remotely. Residents can turn off their home's lights once they're in bed, for example, or turn them on before they come home after dark. (Lights can also be turned on and off manually.)
Nest thermostat can be adjusted with a verbal command, from a smartphone, or manually. Residents can preset the air conditioning or use a smartphone to turn it on when they're due to return home from being out and about.  
A preconfigured iPad for each Villa Home allows residents to easily control smart-home technology through the Google Home App. That same app can be installed on a smartphone, so the resident can control the system remotely. For example, if a resident is out walking their dog and someone rings their doorbell, they can look at their phone and see who it is through the camera built into the doorbell. 
Each system operates on a high-speed, mesh Wi-Fi network that ensures a strong signal throughout the home.  
Broad Appeal 
People of all ages are now accustomed to smart speakers and Nest thermostats, and moving into a new home with the system already set up is an added perk.
One resident who moved into a smart Villa this spring says, "I do like using the smart technology. I use it mainly to control the lights, but I also use it to access the news, ask questions, and give it commands like setting an alarm, and I find it very convenient."
New Villa Homes—some with smart technology and others without—are still available in a variety of floor plans. For more information on the homes, including a virtual tour and sample floor plans, visit splendidotucson.com/villas.