Retired Marana businessman Don Jorgensen has received an award from President Joe Biden for his voluntary work with the group ShelterBox Disaster Relief.
Jorgensen received a medallion and a letter signed by the president in July as part of the national President's Volunteer Service Award presented by the White House since 2003. It is associated with the President's Council on Service and Civic Participation for those of all ages who contribute as least 100 hours of volunteer activities.
Jorgensen, 65, was one of 25 ShelterBox USA volunteers to receive the honor and the only one in Arizona. 
ShelterBox provides emergency shelter and household supplies to individuals around the world who have been forced from their homes by disaster or armed conflicts.
Jorgensen spoke by phone while vacationing in England. 
"It was in Rotary that I learned about ShelterBox," Jorgensen said. "It was started by a Rotary Club in England in 2000, and it spun off as its own nonprofit (in 2002) he said. "What attracted me is it focuses on those in the most need at the most vulnerable time, and there's no middleman."
Since its founding ShelterBox has helped more than 2 million people around the world. It has responded to 300 disasters in more than 100 countries, and was nominated for the Nobel Peace Prize in 2018 and 2019. 
"ShelterBox's lifesaving work is only possible because of our inspiring supporters like Don Jorgensen, whose service ensures families made homeless by disaster and conflict have access to essential shelter and supplies," said Kerri Murray, president of ShelterBox USA.
"This distinction truly sets him apart as someone committed to serving others and making the world a better place. Never has this work been more important as we scaled up our efforts in the last year to respond to climate change-driven storms and protect communities from COVID-19."
Jorgensen volunteers his time presenting about ShelterBox to Tucson-area service clubs, schools, churches and other community groups.
"I tell them about ShelterBox and work to build relationships," Jorgensen said. "Right now, ShelterBox is in about nine different countries, responding to natural and manmade disasters due to conflict, earthquakes and flooding. ShelterBox helps folks monitoring those and decide whether ShelterBox is OK to respond," he said.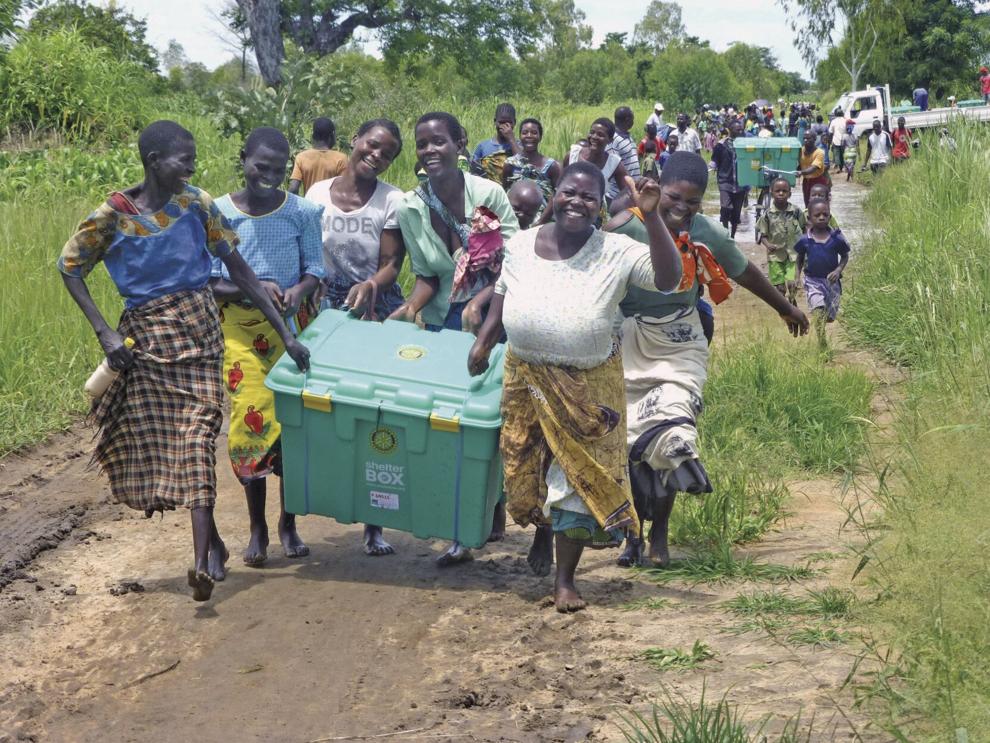 As a result of Jorgensen's work last year, ShelterBox provided supplies to 143,000 people in 11 countries, or 28,600 households. That included its largest response to date to the Philippines to Typhoon Rai last December.
When the war in Ukraine began, Jorgensen said, ShelterBox was involved in three different projects there, giving direct aid to Ukrainian families and those fleeing the war.
"In Arizona in five months over $100,000 was raised (for Ukraine) by ShelterBox," Jorgensen said.
An all-volunteer organization, ShelterBox provides family-sized tents and essential tools to start repairing and rebuilding homes. Its kits contain items that help transform shelter into a home, such as cooking sets, solar lights, blankets, water filtration and mosquito nets. These items help families to recovery after a disaster, providing a way to keep families and communities together.
A New England native, Jorgensen earned a bachelor's degree at Long Beach State University in Southern California. He then came to Tucson and attended the UA. There, he earned a master's degree in rehabilitation, focusing on substance abuse. He earned his doctorate in health services.
In 1991, Jorgensen founded Jorgensen Brooks Group. The company, which he sold seven years ago, provides credentialed clinical network and expansive work-life services. These include, management support, training services, workplace crisis response, workplace leadership and employee assistance counseling.
Jorgensen is a member of the Rotary Club of Marana. He has been selected to serve next year as district governor for Rotary District 5500, covering all of southern Arizona.
He and his wife, Kathy, whom he met in graduate school, have a daughter and five grandchildren living in New York.