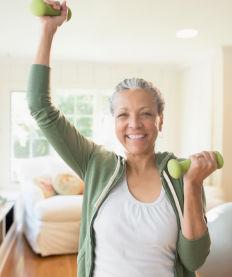 Keep it moving. This advice is essential to maintaining good health for everyone who's staying at home right now—from athletes to couch potatoes and everyone in between. Without access to gyms or in-person fitness classes, people may be tempted to abandon their exercise routines. However, adding movement and activity to your life every day holds benefits for your body, your mind, and your mood. 
Here are some ideas on ways to exercise that will help you cope with stress as you work your muscles:
Put on Your Walking Shoes
If you can only manage one form of exercise, go for a walk every day. (Please find a route where you're able to maintain physical distancing.) Even a short daily walk can help keep older adults strong and agile. 
"Walking is good for your brain, as well as your body," says Todd Lutz, Get Fit coordinator at Splendido, an all-inclusive community in Oro Valley for those 55 and better. "Through simple exercise such as walking, your body begins to release proteins and chemicals which can help lower stress levels and have positive benefits on memory." Walking can also provide mental clarity and give you a natural "feel good" rush.
Plus, research has proven that simply spending time outdoors can ease anxiety and boost brain functions including short-term memory and concentration. Some studies even show that spending time in nature can strengthen your immune system. 
Learn to Dance 
If typical fitness routines bore you or you're ready to move to the beat, look for an online dance class. Learning to dance is good for you in more ways than you might expect. Yes, it gets you moving—but research shows that it can also sharpen your cognition, increase your response times, improve your posture, and boost your overall well-being. 
You've heard the expression, "Dance like no one is watching" … well, now is your perfect opportunity! Browse the internet; you'll find a variety of online instruction. For maximum benefit, try something fast-paced.
Yoga
When practiced regularly, yoga's unique combination of physical exercise and meditative practice can unlock a wealth of benefits to the body, brain, and mood—from easing joint pain to lowering blood pressure. It provides a gentle but effective challenge for muscles and helps reduce stress, making it an ideal addition to anyone's routine these days. 
You can find many yoga classes online, including some for beginners—and plenty are free right now. 
Look for Your Favorite Class Online
Many fitness centers and studios are offering classes online—and many are free to anyone. So, if you would normally be attending a Pilates class, or doing Zumba, or even CrossFit, start Googling to find a good fit for you. 
At minimum, make an effort to move more every day: start your morning with a stretching session, walk up and down a flight of stairs, stand or walk around as you chat on the phone. Any way you move will lift your physical, mental, and emotional