As auspicious a sign as any arced over Tanque Verde Ranch on Thursday, Nov. 21, when a rainbow appeared above the unveiling of "The Barn," a new 12,400-square-foot event space in the foothills of the Rincon Mountains. The unveiling, which was slightly hampered by a rainstorm, allowed for guests to come inside and see the massive woodwork ceiling, wall-sized fireplace and authentic Arizona art. 
"The Barn has been in our minds for probably seven or eight years," said Tanque Verde Ranch general manager Terry Hanley. "We always thought we needed more indoor event space. But two-and-a-half years ago is when the plans really started to take off."
Construction on The Barn began in November 2018, and finished in October. The venue is designed to serve as an indoor event space for Tanque Verde Ranch, providing space for up to 350 guests at a time. The Barn is 12,400 square feet with a 4,000-square-foot outdoor terrace.
"Right now it's for weddings, corporate events, charity events—that sort of thing," Hanley said. "But we're thinking someday we might do a Sunday Brunch down here or something along those lines, because if you get those doors open when the sun is shining, it's just spectacular. But right now, it's more about getting it up and getting it running. One day down the road we'll incorporate the rest of the ranch."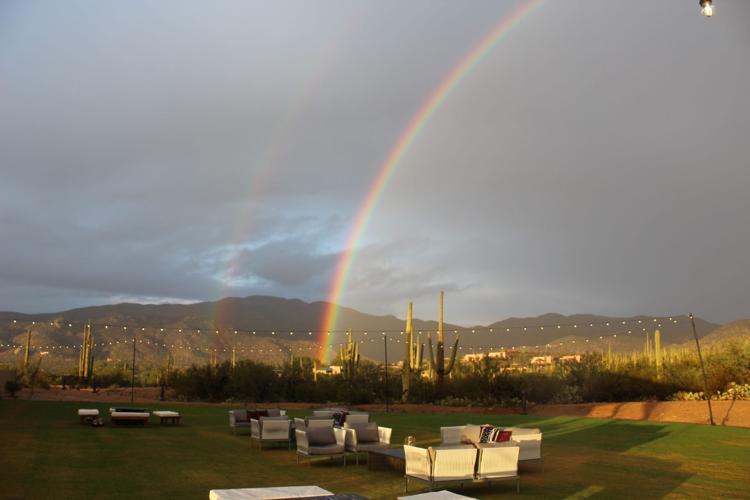 While the location is designed for more formal events as compared to the rest of the ranch, The Barn is still contains many pastoral and Sonoran elements: paintings by cowboy Western artist John W. Hampton, Native American pottery, cow skulls and cowboy attire. Tanque Verde Ranch even hired local muralist Joe Pagac to paint a nearby 250,000 gallon water tank with mountains and saguaros in order to blend into the desert scenery.
"We wanted to create a rustic yet modern feel for the venue, in keeping with the ranch theme, while still letting visitors be wowed with the nature," said Tom Juliano, CEO of Cote Family Destinations, which has owned Tanque Verde Ranch since 1957. "Now we can certainly attract a different clientele. It takes us away from only being the traditional dude ranch feel."
The Barn, the largest structure on Tanque Verde Ranch, is currently taking reservations for the end of 2019 and into 2020. The location is already proving to be in demand, as it hosted a wedding even before the opening celebration. 
According to Hanley, the last big growth at Tanque Verde Ranch happened in the late 1990s with the construction of a registration building, saloon and nature center. 
The Barn is located a quarter of a mile south of Tanque Verde Ranch, but is secluded by the foothills. The location features a 7,800-square-foot dining room, 1,200-square-foot indoor/outdoor bar, and a 1,500-square-foot fully functional kitchen.
"Four years ago, our TVR team had many discussions about building this barn. Location was a concern," said Rita Cote, former general manager of Tanque Verde Ranch. "Then one day my late husband Bob came to me and said 'I have your location for the barn.' And he brought me here. Actually, he brought me over to where our dump is, and said 'You need to go over there. This is the view that you want.' As usual, his vision was spot-on."
The Barn's construction included several local businesses, including Barker Contracting which were the general contractors, Seaver Franks Architects which designed the building, and Baer Joinery which designed the woodwork.
"This has been a huge team effort, and these are the results," Hanley said. "It's a game changer."