The Weekly Take: Deandre Ayton and Allonzo Trier guide Arizona past UMBC, 103-78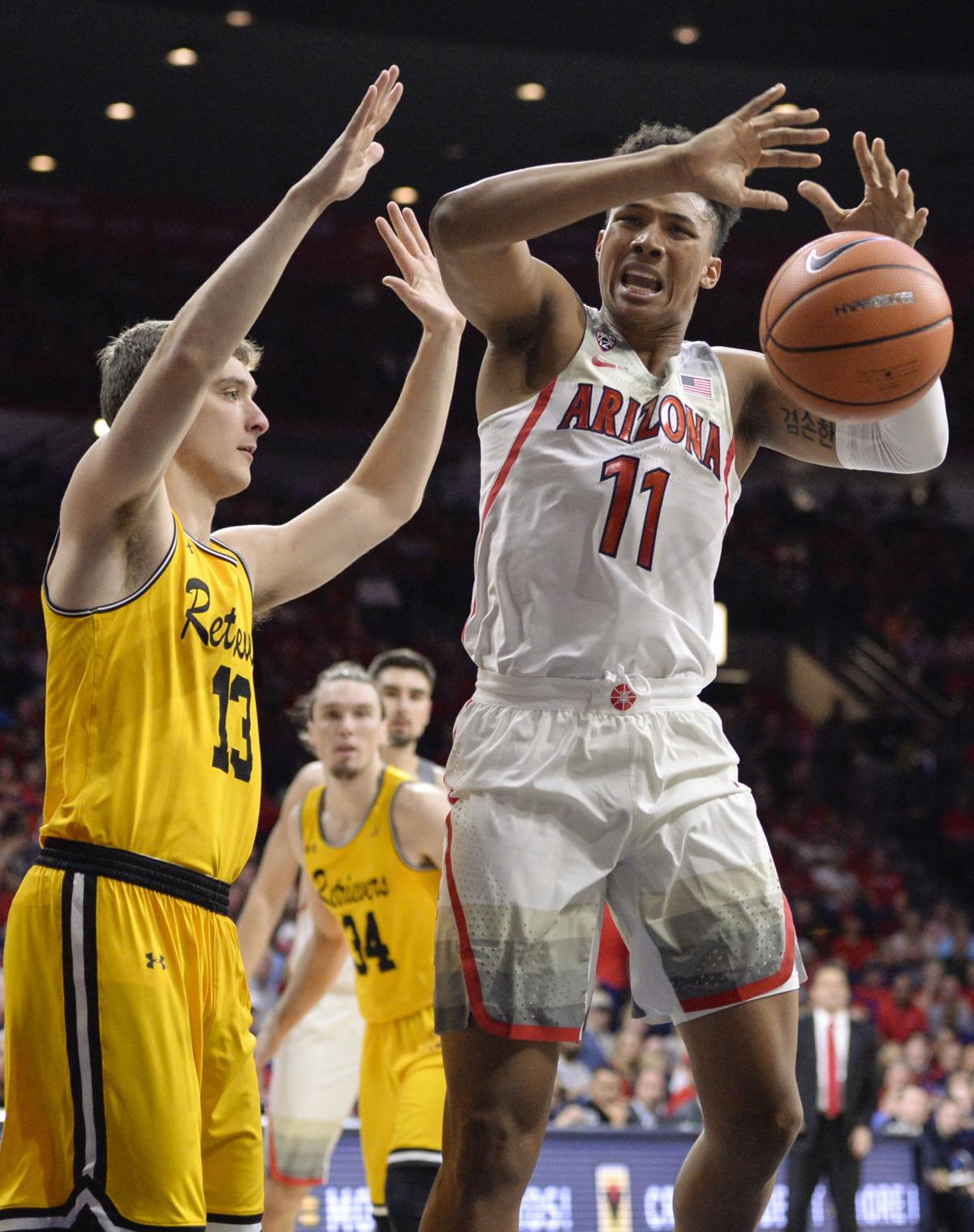 It was an afternoon of dizzying highs and head-scratching lows for the Arizona Wildcats on Sunday, against an overmatched University of Maryland-Baltimore County.
The Wildcats, who throttled in-state foe NAU 101-67 on Friday night, surged out of the gate, leading 56-47 at the half, thanks to shooting a mind-boggling 70 percent from the field, before cruising to a 103-78 win.
Their luck surged and ground to a halt in the game's latter half, struggling from the field at first, before finally pouring it on late.
The final score seemed more of an aberration than fact, on an afternoon where most of the ZonaZoo (Arizona's student section) and smatterings of the rest of the arena lay vacant.
The hometown Cats found themselves fighting off the Retrievers more than once in the game's latter half, with its lead cut to three with 17:53 remaining.
They responded with force, thanks to a video-game like shooting performance by junior guard Allonzo Trier—who scored a team-high 30 points Sunday, while freshman big man Deandre Ayton added his second-straight double-double, with 19 points and 13 rebounds.
Arizona Coach Sean Miller cracked a wry smile as he recapped his team's effort, and the selfless effort put forth by everyone that took to the McKale Center court.
"Right now, there's some sacrificing that needs to be made for us to be the team that we want to be."
The Wildcats will look to continue its early season success at 8 p.m. against California State University-Bakersfield, and will lean heavily on Trier and Ayton to do so.
The pair have the chance to smash Arizona's single-season points and rebound records, while also guiding the Cats to their first Final Four since 2001 in the process.
Tremendous Trier
Trier was exceptional, two nights after going for 32 points against the Lumberjacks. He's the eighth Wildcat to score 30 or more points in back-to-back games.
He'll try to join former Arizona guard Jerryd Bayless as the only player in school history to do so in three straight games, with Bayless doing so in 2008, against ASU, Cal and Stanford.
Senior point guard Parker Jackson-Cartwright, who finished with nine points and nine assists Sunday, has seen Trier's transcendence over the last three years, and believes the junior is capable of doing something special this winter.
"Just his leadership. We always knew that he could score, but I think his ability to lead in practice with his voice and by example has really helped us, and helped himself," Jackson-Cartwright said.
Miller heaped praise on the Washington State native, but also made sure to heap equal accolade to his teammates as well.
"The one thing I want to point out about Allonzo is that he is playing efficiently, but also how well his teammates are playing right now," Miller said. "…We're far from just him offensively, I think some of his teammates allow him to excel offensively."
Airborne Ayton
Perhaps the highlight of the night for Arizona came from the Bahaman freak, Ayton, who soared through the Arizona night to slam a missed shot with 2:35 left, to give Arizona a 98-71 lead.
Ayton joked afterward that Miller was the inspiration behind his valiant effort, cheering him to the dunk.
"I heard coach say, 'Deandre, go get it!'," Ayton said. "And I was like, 'OK'."
It's that lighthearted joy that Ayton brings every day that Miller loves most about the freshman from Nassau.
He challenged the notion brought forth by some during Ayton's recruitment process that his happy-go-lucky approach was an indication he didn't take the game serious enough.
"I would love to get those guys into a room and know what they saw," Miller said. "I've seem (Deandre) play two exhibition games in Spain, the Red-Blue Game and two other exhibition games. Is he perfect? No one is. But his ability to go hard is unquestionable."
What's also unquestionable is missing Ayton and company in-person, either when the Wildcats host Cal State Bakersfield, or in any of the team's games between now and their season finale against Cal on March 3.
It's the most wonderful time of the year for Arizona fans, here's to many more nights of high-octane excitement and joy.