Ready to Lance: Drew Cotton leads Mountain View past Salpointe Catholic, 66-53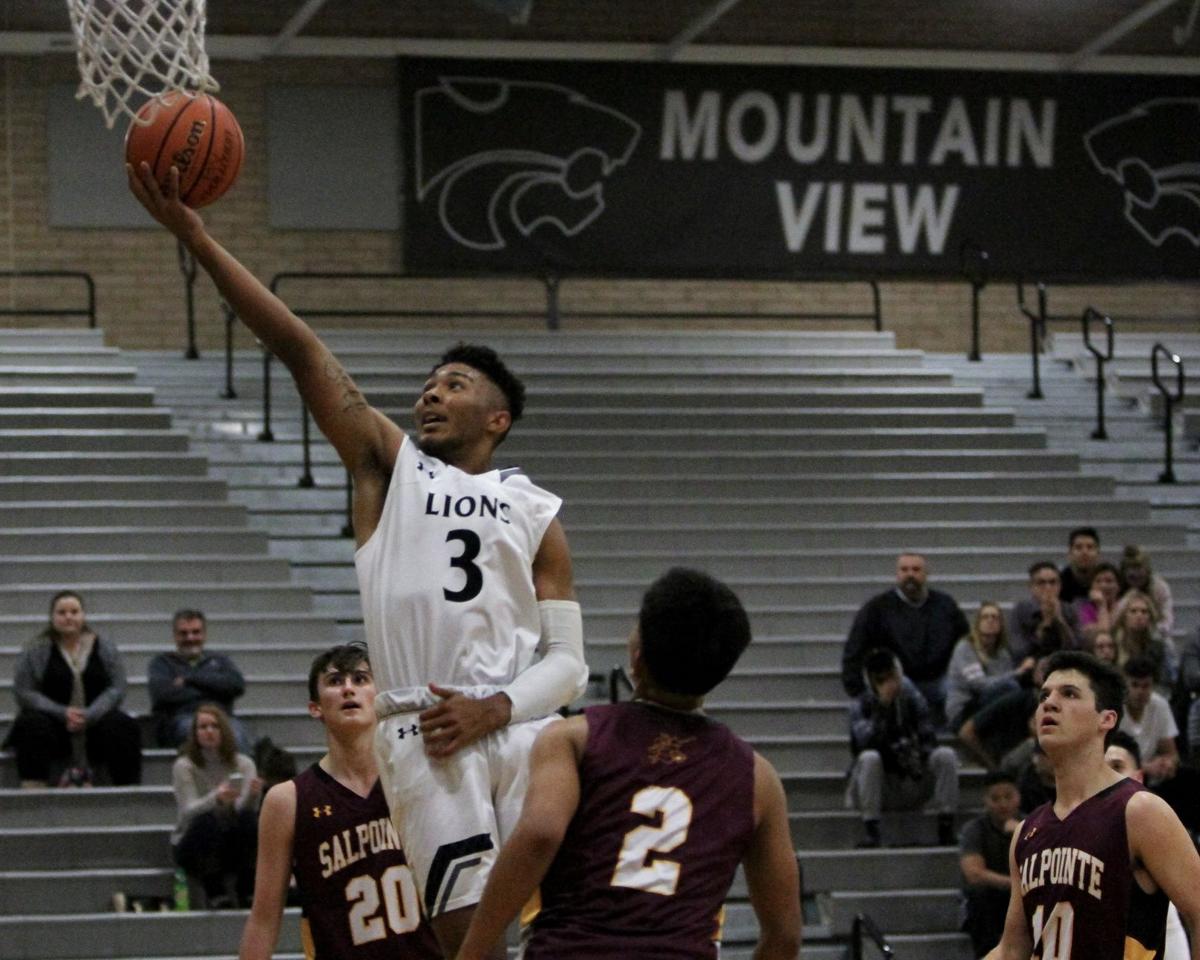 Drew Cotton couldn't help but smile as the final seconds drained off the clock on the stained hardwood floor at Mountain View High School.
The senior guard had reason to celebrate—slashing his way through the Salpointe Catholic defense all night long. Cotton left the Lancers in disbelief, guiding the Mountain Lions to a 66-53 victory.
The 6-foot-2-inch guard was red-hot from the floor, scoring 25 points against a Lancers defense that had given up 53 points per game in its first six games.
Cotton deflected praise after the game on Tuesday, thanking his teammates for their night-long effort against a Salpointe team they lost to 61-52 a year ago.
"We started off slow, but we all came together," Cotton said. "We all said we're going to be all in for this. We pushed out our lead in the second half, and I was proud of our performance."
Mountain View Coach Corey Duck, who's gone 36-22 over the last three seasons, is proud of the effort put in by Cotton and his teammates on Tuesday.
He praised his team's ability to overcome a strong charge by the Lancers in the game's third quarter—thanks to the three-pronged offensive attack of Cotton, Calib McRae and Julian Molina.
"It's a good confidence boost, so you'll take it," Duck said. "They're missing two of their best players right now, but we'll take the win."
Confidence boost
The win snapped the Mountain Lions' two-game losing streak, having lost to Walden Grove and Sunnyside, 88-82 and 70-48, respectively.
Duck loves the dedication shown by his players early in the season, guiding the Mountain Lions to a 6-2 record heading into Friday's game against Maricopa.
"The last two years, I would say that these guys fight, and they don't stop fighting," Duck said. "We had a gutsy effort tonight, and they fought to the end, with good, unselfish play. We're a team of runs and we were able to put a run together when it counted tonight."
Cotton said the team never lost faith in their ability to win on Tuesday, even after the Lancers stormed back to take a momentary lead in the game's third quarter.
"We're always thinking one stop and one score at a time," Cotton said. "We're a defensive-first team, and obviously we've been struggling but we really committed ourselves in the second half and that's what pushed it out."
The Mountain Lions did just that, putting the game away with a 21-11 run in the game's final quarter—ensuring a double-digit victory.
Cotton believes the team's strong effort down the stretch shows their potential going forward this season, a year after missing the Division 5A playoffs, despite posting a 17-9 record.
"Don't sleep on us like we're unexpected," Cotton said. "I know we're not a big-name team, but we're going to come at you and we're going to compete in every game, every single day."